Wandsworth Town Hall Lit Up Purple for World Polio Day
Published: Friday, October 30, 2020
Wandsworth Council turned the Town Hall purple to support World Polio Day in association with Putney Rotary Club.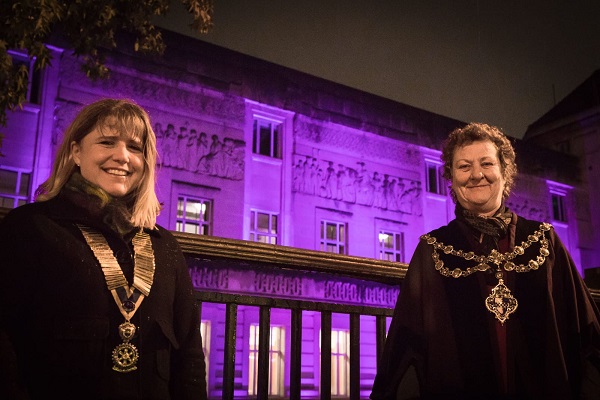 The council is working with Rotary to raise awareness of the disease and the End Polio Now campaign. The light up on Saturday (24) was attended by the Deputy Mayor, Cllr Sue McKinney, who joined Putney Rotary Club President, Louise McCance-Price.
Wandsworth's Mayor, Cllr Jane Cooper, visited the Rotary club stall in Putney on Saturday morning where Putney Rotary Club had organised a Halloween themed bake sale, selling cakes and treats to raise money and awareness of the work the club does to help eradicate polio.
Putney Rotary Club are also donating 3000 purple crocus bulbs, which will be planted in Wandsworth Park in collaboration with Friends of Wandsworth Park. When bloomed, the crocus flowers will be a continuing symbol of the collaboration between Wandsworth Council and Putney Rotary Club and the council's support of efforts to eradicate Polio around the world.
"Eliminating polio is an exceptional cause which Rotary has made its own" said Cllr Ravi Govindia, Leader of Wandsworth Council. "I'm proud that Wandsworth Council have been involved with this year's World Polio Day activities, which I hope will drive the cause forward and raise awareness for the work Putney Rotary Club do".
President of Putney Rotary Club, Louise McCance-Price said: "The members of Rotary Club of Putney remain committed to working with our communities and thanks to our partners including Wandsworth Council, we can eliminate this potentially deadly virus and make Rotary's dream of a polio free world a reality."
To get involved in Rotary and to find out more, visit www.putneyrotary.org.uk.