Winstanley and York Road Regeneration scheme shortlisted for top planning award
Published: Wednesday, October 7, 2020
Wandsworth Council's Winstanley and York Road Regeneration scheme has been shortlisted at the New London Awards.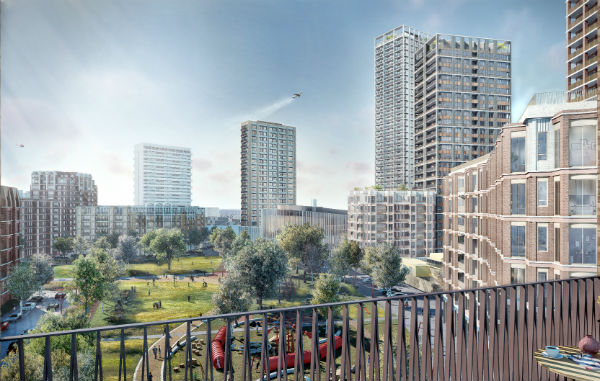 The prestigious event showcases outstanding development planning that contributes to make London a better place for local people to live, work and play.
Winstanley & York Road Regeneration will deliver 2,550 homes in a mix of mansion blocks and tall buildings focused around York Gardens, and a new 2.49 hectares park at the heart of the redevelopment.
Council leader Ravi Govindia, said:" Our new homes are modern and energy efficient and will help take our residents out of fuel poverty, so I'm delighted the New London Awards have recognised that our ambitions for Wandsworth are contributing so much to improving people's lives.
"Winstanley and York Road are two of Wandsworth's major housing estates and our vision is to completely regenerate both of these estates with better, higher quality homes that will improve the lives of our residents, reducing over-crowding and creating an attractive new neighbourhood where people can be proud to live and work.
"Winstanley and York Road is more than just affordable, new homes. And at a time when we need to do everything we can to support London's economic recovery, we will create almost 400 jobs for local people and 3,360 temporary jobs This is a transformational project with untold opportunities for people to train, improve their life chances, education and skills. In total our plans for the estate will boost the local economy by more than £200m."
Key benefits within the Winstanley & York Road Regeneration include:
The provision of up to 2,550 new homes, 35 per cent of which are to be affordable
A mix of tenures including Social Rent, Shared Ownership, Shared Equity, Affordable Rent, Private Rent and open market sale
The re-provision of all council rent and resident leaseholder homes to be demolished, ensuring that no existing secure tenant or resident leaseholder will be required to permanently relocate from their community
Major new community infrastructure, including a state-of-the-art leisure and community centre, a library, a children's centre and nursery
The creation of a new public park totalling 2.49 hectares
Significant economic benefits, including: in excess of 388 net additional permanent jobs and gross value added (GVA) to the local economy of £207.6m
A new council employment and skills centre has already been delivered as part of the regeneration.
Wandsworth has been shortlisted for an incredible seven awards at New London Awards, with Battersea Arts Centre shortlisted in two categories.
Cllr Govindia added: "The number of shortlisted entries achieved in Wandsworth demonstrates the fantastic work being done by both our planning teams and the many external and internal partners we work with to make Wandsworth a wonderful place to live."
"Helping to secure more affordable homes for local people will continue to drive the council's growth ambitions with the completion of more than 4,000 homes by 2027, with thousands more in the pipeline.
"But the cultural and educational needs of the borough are also reflected in these nominations and I'm delighted to see the work that is ongoing in Wandsworth."
"At Winstanley and York Road for instance we are building a new leisure centre, swimming pool, library and children's centre on the estate and creating a new public park. We are installing improved cycle lanes, parking spaces and footpaths which will connect the estate with the surrounding area and provide a link from Clapham Junction to the River Thames."
A team of London-based Expert Assessors will judge all shortlisted entries.
The awards celebrate the best new builds that contribute to making the capital a better place in which to live, work and play.
Winners will be announced in November.
EDITOR"S NOTES:
About Winstanley & York Road Regeneration LLP
Wandsworth Council began consulting on potential improvement options for the estates in 2012.
Residents were consulted to establish their preferred approach to the improvements and of those residents that expressed a view, the majority voted for a comprehensive strategy based on demolition and rebuild.
The council began the search for a development partner in 2016 through an OJEU process, and selected Taylor Wimpey in 2017. Together the partners formed Winstanley & York Road LLP. Wandsworth's seven nomination at the New London Awards:–
Winstanley and York Road Regeneration, by HTA Design LLP - Masterplan, Henley Halebrown, Figureground Architects
Battersea Arts Centre, by Haworth Tompkins
The Observatory Block Graveney School, by Urban Projects Bureau
Capital Studios, by Backyard Cinema
Battersea Exchange, by Feilden Clegg Bradley Studios
Battersea Design & Technology Quarter, by We Made That