Air quality campaign continues to target idling vehicles outside schools
Published: Friday, September 6, 2019
The council is continuing its air quality campaign to discourage unnecessary engine-idling outside local schools.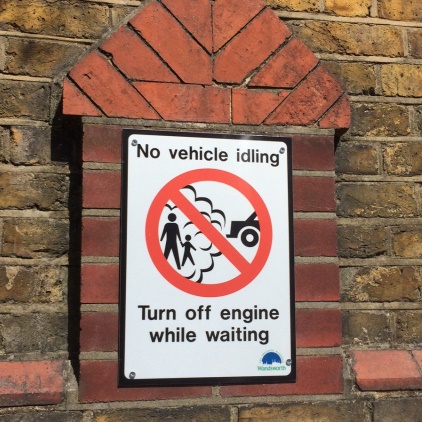 Specially trained parking attendants are being sent to schools to encourage motorists to switch their engines off while dropping off and picking up their children.
Anti-idling signs are also being installed outside schools to hammer home the message.
As well as deterring engine idling, the wardens will also target drivers who park dangerously or inconsiderately outside schools.
Drivers who stop on the yellow zig zags outside entrances, or double park, park on corners, block dropped kerbs or driveways, obstruct cycle routes or park too close to junctions will also be penalised. The attendants will be supported by colleagues in CCTV equipped council vehicles that can capture video evidence of contraventions.
People taking part in the school run will however be given five minutes grace if they park in marked out parking bays or on yellow lines - as long as they are not posing a danger to pedestrians or other road users.
Transport spokesman Cllr Paul Ellis said: "Vehicle idling and dangerous parking outside schools are both issues we're committed to tackling.
"There's absolutely no need for people to leave their engines running needlessly and it significantly contributes to local air pollution - an idling engine can produce twice as much pollution as a car in motion.
"As part of our Air Quality Action Plan we will continue to work with schools and parents to raise awareness of the issue and encourage behavioural change.
"And we will be stepping up our efforts to persuade parents to abandon their cars on the school run altogether and walk their children to school instead."
• Five schools in Wandsworth are set to take part in a pilot scheme that would curb traffic driving past their school gates at drop-off and pick-up times.
The council is keen to pilot a "School Streets" initiative at suitable locations as part of its efforts to encourage safer and healthier travel to and from school, while also helping to boost air quality levels.
The scheme could see the roads containing school entrances closed to non-local traffic when pupils arrive in the mornings and leave in the afternoons.
Discussions are ongoing with head teachers, governors and parents at Penwortham, Hillbrook, Alderbrook, Earlsfield and Furzedown primaries.
Where schools and parents back a scheme, wider consultation will be held with local residents in any affected streets to ascertain their views. If approved the initiative would only apply during term times and would not prevent neighbouring residents or drivers with a disability from using their cars.
The council is backing a wide range of measures to help tackle air pollution in the borough, including:
• Helping schools develop School Travel Plans which reduce the number of cars used on the school run through initiatives like 'walking buses' and car pools.
• Championing car clubs which dramatically reduce total vehicle use and take older, more polluting cars off the road. Wandsworth now has the highest car club membership in London with more than 20,000 members.
• Providing a comprehensive network of electric vehicle charging points.
• Promoting cycling and investing in the borough's cycle network. Wandsworth now has one of the fastest growing cycling rates in the country according to Government statistics.
• Free bike safety lessons for children and adults to give more residents the confidence and skills they need to start cycling.
• Introduced a borough-wide 20mph speed limit.
• Restrictions on delivery vehicles in busy high streets
• A free airTEXT messaging service warns residents when high pollution levels are forecast.
• Lobbying for higher capacity rail, bus, riverbus and tube services so more residents can switch from cars to public transport.
• Recruiting and training air quality champions.
• A rolling programme of environmental theatre productions in local schools to teach children how their travel choices affect air quality.
• Supporting Clean Air Day and encouraging local people to make clean air pledges
• Supporting Car free Day
• Supporting Play Streets schemes
To find out more please visit www.wandsworth.gov.uk/airquality