Art in abundance at Artists' Open House
Published: Tuesday, September 24, 2019
Wandsworth Artists' Open House (WAOH) is back, with more than 130 artists inviting you into their homes and studios across the borough.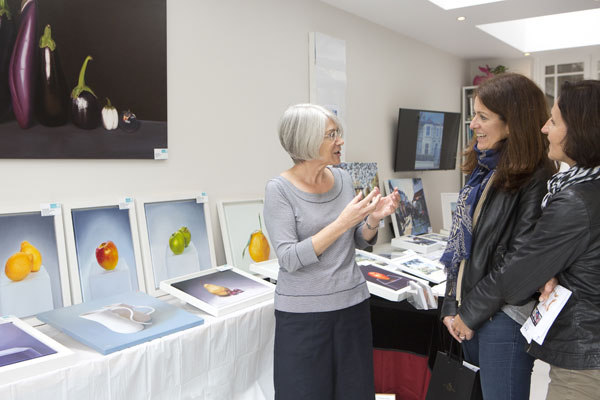 The first two weekends of October is your chance to discover talented artists you never knew were on your doorstep.
The annual event is all about shining a light on Wandsworth's abundance of creative talent and making art open to everyone. With every venue free to visit, all art enthusiasts – from culture junkies to the simply curious – can enjoy art in a relaxed setting and connect with a community of artists and makers in their neighbourhood. It's a rare opportunity to speak directly with the artist, learn about how they make their work, and to see where the creative magic happens.
Creative forms on show at the 83 venues dotted all over the borough include painting, printmaking, jewellery, photography, ceramics, sculpture, textiles and homewares presented by award-winning artists.
For the second year, the world's leading university of art and design, the Royal College of Art (RCA), has teamed up with WAOH to offer bursaries to five young artists aged 16-25. As well as providing them with an invaluable mentoring session at the RCA, WAOH offers the recipients a fantastic platform to showcase their work at the RCA's Dyson Gallery. Working across a broad range of media, including conceptual art, photography, sculpture, painting, performance and video, this is an opportunity to see what the next generation of artists are making.
There will also be opportunities for visitors to enjoy a storytelling session by Hannah Need in Earlsfield and attend a preview evening at Artisan Space in Putney, where a number of artists are showing their work. On both Sundays there will also be free pottery, drawing and printmaking workshops for all ages at Putney School of Art and Design. Wandsworth secondary school pupils also have been invited to attend an exclusive event at the Royal College of Art, where they will have the opportunity to view and respond to the artwork exhibited in the Dyson Gallery by the five RCA bursary winners and meet the artists
Councillor Steffi Sutters, Cabinet Member Community Services and Open Spaces, said: "Wandsworth Artists' Open House really goes to show the sheer abundance of artistic talent in the borough. It's a fantastic opportunity for the local community to visit the homes and creative spaces of artists just around the corner and support Wandsworth's growing creative industry."
Artist Cliff Pearcey said:"I think that it's great that people can see art and talk to artists in a relaxed domestic setting. And there's the chance to buy direct from the artist without additional gallery fees. I think that the Wandsworth Open House event has now established itself as an important community asset which reflects and encourages artistic talent within this borough."
Go to wandsworthart.com  to see the full list of artists and Open Houses and to create your own trail of your favourite artists to visit. You can base your trail by postcode or the kind of art you're most interested in. Printed local guides with a map of participating venues will be available from your local library, and at various venues and organisations throughout the borough.

• Saturday 5 – Sunday 6 October
• Saturday 12 – Sunday 13 October
• 11am – 6pm
• Free
If you would like a local trail guide, contact the Wandsworth Arts service on 020 3959 0020 (020 8871 8711 after October 1) email arts@enablelc.org (arts@wandsworth.gov.uk after October 1)
Twitter @wandsworth_arts
Instagram @WandsworthArt
Facebook @WandsworthArtsTeam
#WAOH2019