Award for Godley Gardens park improvements
Published: Thursday, September 12, 2019
Improvements to Godley Gardens on Godley Road in Earlsfield completed last July have come second the Children's Play category of the Street Design Awards 2019.
The aim of the project was to provide greater play provision while maintaining the natural look of Godley Gardens and better connecting the local community with this green space. 
As a result of an online consultation asking residents what they would like to see there, Godley Gardens now boasts a new pathway, new benches, improved entrances and landscaping, with the centre piece of the work a striking play tunnel set into an astro-turf hill. 
The project also improves safety with the installation of a net to prevent footballs entering the surrounding roads. Dog waste bins were also added, along with new signs helping to inform dog walkers of the bylaws. 
The judges were impressed by the innovative design, in particular how it made the space more inviting and welcoming to all of the local community while retaining its style as a garden. 
The project was a result of Wandsworth Council working with its contractor Enable Leisure and Culture in collaboration with the local community. The designs were drawn up by Wandsworth Council Design Services and the works carried out by Warwick Landscaping. The £50,000 project was funded by the Wandsworth Local Fund (WLF).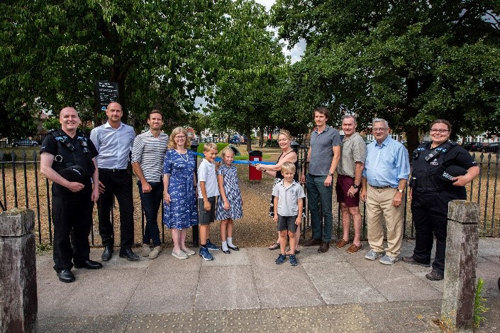 Parks and open spaces spokesperson Cllr Steffi Sutters said: "Godley Gardens was a great example where we worked with local people to create the playground that they wanted. I especially love the play tunnel, and it's proved to be really popular with local children. 
"This is one of several playgrounds that we have refurbished over the past couple of years working alongside local communities and there are more on the way. We're proud of our new-look playgrounds and delighted that our efforts at Godley Gardens have been recognised by this award."
The WLF is money levied by the council on new developments in the area and which help pay for community and neighbourhood infrastructure improvements in the borough. Other WLF-funded playground improvements completed in recent weeks include the playground next to St Mark's Church in Boutflower Road, Battersea and the playground in Chivalry Road. Improvements are also scheduled for Garratt Park playground, following a consultation exercise this summer.