Borough's youth support council's green pledge
Published: Wednesday, September 4, 2019
The Wandsworth Youth Council has given a firm commitment in its latest manifesto to support the council's pledge to be inner-London's greenest borough.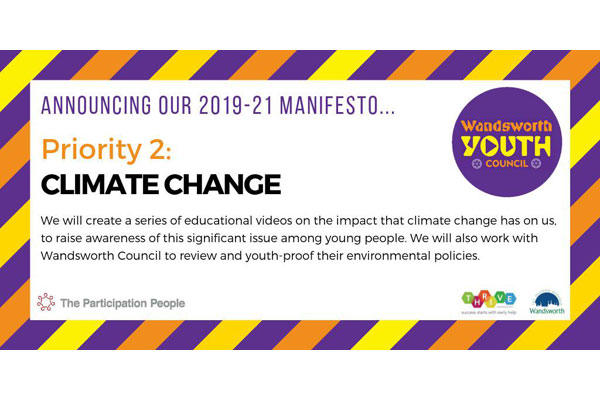 Wandsworth Council leader Cllr Ravi Govindia has set out his ambition for Wandsworth Council to play its part in tackling climate change – with the goal of being carbon neutral by 2030 and a zero-emission council by 2050. Find out more.
In its 2019-2021 manifesto, the youth council said it would work with the council to review its environmental policies to help it reach this goal.
"Wandsworth Youth Council thinks it's vital we address the issue of climate change because it will affect our generation more than anyone else," said Tessa Yates, youth councillor and climate change campaign lead (pictured below).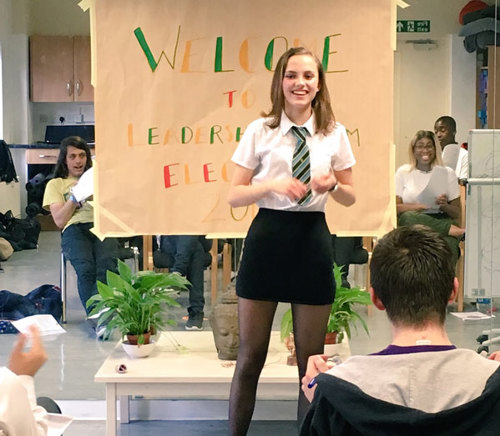 "The UN says we have less than seven years to cut our C02 emissions by 50 per cent yet they are still rising. In Wandsworth we want to raise awareness of this incredibly important issue among young people and within the council to make sure we are doing all we can to protect our planet.
"This includes creating educational videos on the impact of climate change and helping Wandsworth Council review its environmental policies."
Wandsworth's green pledge follows years of green policies, including reducing waste and encouraging recycling, planting hundreds of trees every year, making council offices and depots more energy efficient, switching to LED street lighting and promoting electric vehicles and car clubs.
Cllr Govindia said: "This council must do all it can to address the drivers of climate change, and I'm delighted that our Youth Council is helping us in this fight because it is their generation who are key to its success. Young people will bear the brunt of this climate emergency, and it's important that they feel empowered to be part of the solution.
"We will work with Tessa and her colleagues over the following year to see how their insight and fresh thinking can inform the way we work and the measures we can take to be greener."
The Wandsworth Youth Council is made up of local young people who work to give the borough's youth a voice in decision making. It liaises with councillors, council officers, the police and other groups about local services and issues that affect young people.
It also runs events, such as the Youth Voice Question time and the Takeover Challenge, and campaigns. It set its campaign priorities until 2021 following discussions with more than 4,000 young people. In additional to climate change, it will be campaigning on knife crime, homelessness and mental health.
The Youth Council is co-ordinated and supported by Participation People, on behalf of Wandsworth Council. Find out more at www.wandsworth.gov.uk/youth or follow @WBCYouthCouncil on twitter.
Find out more about Wandsworth Green Pledge or hear the leader of Wandsworth Council Ravi Govindia explain it in the video below.