Cautious welcome for Hammersmith Bridge announcement – but funding questions remain
Published: Tuesday, September 3, 2019
Wandsworth's cabinet member for transport Paul Ellis has welcomed the news that repair work is set to begin on Hammersmith Bridge - but sounded a note of caution over the "unanswered funding questions that still remain".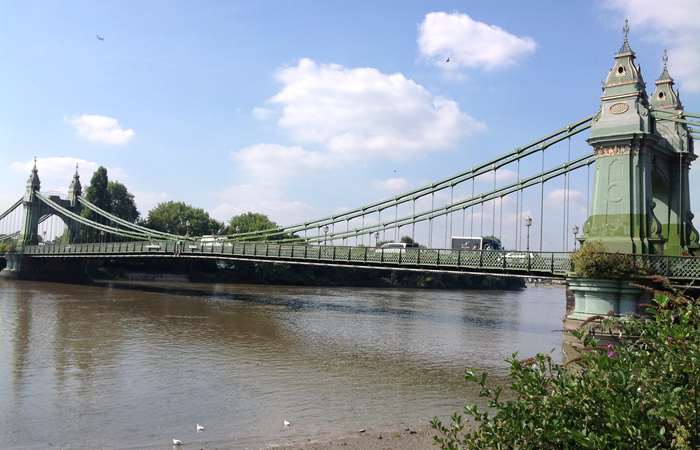 Hammersmith & Fulham Council (H&F) and Transport for London (TfL) have today (Tuesday) jointly announced that repair work is set to begin – after H&F closed the bridge indefinitely without warning on April 10.
Today's joint announcement says that engineers have now completed their initial inspections of the bridge structure and agreed a repair plan - with TfL providing £25m towards the bill.
But with the total repair cost expected to rise to at least £120m there are still no concrete answers about where the remaining funds will come from.
Cllr Ellis said: "This is indeed welcome news – especially for the people and businesses of Putney who have had to shoulder much of the displaced traffic that has resulted from the closure.
"I am pleased that a repair plans appears to have been agreed and that TfL have set aside £25m to get the project up and running.
"However, there is at this stage no indication as to how the rest of bill will be paid. Although repairs may now be about to start we need some further clarity and reassurance that there will be the money available to see the job through.
"What we need is some solid commitment, particularly from Hammersmith and Fulham Council, which owns the bridge, that the project will not run out of cash before the work is complete.
"Londoners look forward to receiving those assurances at the earliest possible opportunity."
The current closure is just the latest in a series that have affected Hammersmith bridge over the past two decades.
The bridge was closed in 2014, 2016 and twice in both 2017 and 2018. It was also closed for more than a year between February 1997 and July 1998. It is the only bridge that H&F is responsible for maintaining.
In May of this year H&F confirmed it was pursuing a £200m compulsory purchase order (CPO) to seize land at Earls Court owned by developer Capco and Transport for London.
The council has also welcomed an announcement from TfL that later this month bus route 419 will operate to Roehampton instead of terminating in Barnes.
From September 28 this bus route will be extended to Bessborough Road, providing services between the southern end of Hammersmith Bridge and Roehampton Lane, including Queen Mary's Hospital and Roehampton University.
Service frequency will also be increased so that buses run every 12 minutes Monday to Saturday and every 20 minutes on Sundays and evenings.
Cllr Ellis added: "This is good news for bus passengers in Roehampton who have been left isolated by the bridge closure and the resulting changes to a number of routes. We have been calling on TfL to improve bus services in roehamptoin and I'm pleased our appeals have been heard."