Come to a Silver Sunday tea dance
Published: Tuesday, September 24, 2019
Wandsworth Council is hosting a tea dance on Sunday October 6 as part of a national day to overcome loneliness amongst older people.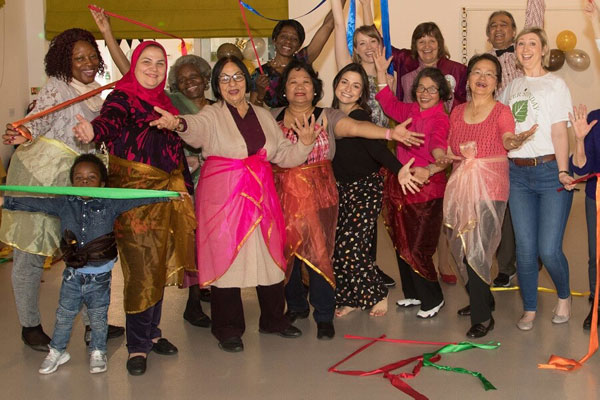 Starting at 1pm at the Civic Suite in Wandsworth Town Centre, residents of all ages are encouraged to come along for tea, coffee, cake and dance the afternoon away to music from the 40s, 50s and 60s until 4pm. It's free and no booking is required.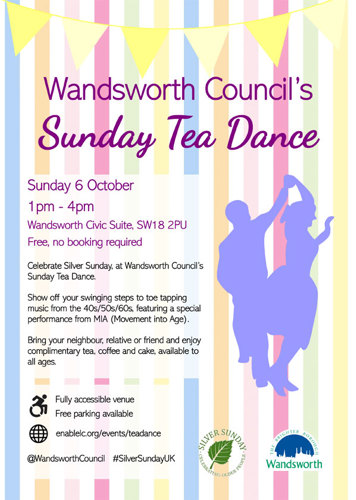 Councillor Melanie Hampton, cabinet member for adult social care and health said: "I am delighted that Wandsworth Council is part of the 2019 Silver Sunday celebrations.
"Wandsworth's senior residents are the heart and soul of our borough and the Tea Dance is a wonderful way to bring people together and encourage people to live life to the full.
"Silver Sunday is only one day, but I hope that it shows our older residents how much they are valued, and that there are networks and support out there to help them stay connected to the communities they did so much to create.
"We know that loneliness can have a bad effect on people's health – which is why we have asked a leading professor, Rusi Jaspal, to help us tackle it. Over the coming months I will be working closely with him to find out what we as a council can do differently."
Hundreds of organisations across the UK will come together to host free and low-cost events and activities on Silver Sunday. 
The day aims to combat loneliness by providing a packed schedule of free events for older people to try something new and meet new people.  Loneliness can strike at any age, but older people are at greater risk.  According to Age UK, more than a million older people say they go for over a month without speaking to a friend, neighbour or family member. 
Silver Sunday is organised by the Sir Simon Milton Foundation, a charity that works to reduce loneliness and isolation amongst older people.  For one day every year, Silver Sunday provides older people an opportunity to get out of the house, try new things and meet new people as well as to find out about local services that are available throughout the year.
Silver Sunday Founder, Lady Christabel Flight said: "Some people don't like to admit they're feeling lonely and Silver Sunday is a positive way to do something about it by meeting new people. You're never too old to try something new and Silver Sunday is the perfect opportunity."
Find out more about events and activities taking place across the country at silversunday.org.uk.
For more information about the tea dance please email events@enablelc.org.
Ends

Notes: Silver Sunday was launched in Westminster in 2012 by The Sir Simon Milton Foundation and Lady Christabel Flight, Westminster City Council's Older People's Champion.  The project was set up to combat the loneliness experienced by older residents in the city of Westminster and to encourage community interaction through an annual day of events. 
In 2013 it went national following interest from local councils, community organisations and businesses and now takes place on the first Sunday of every year. Silver Sunday 2019 is on October 6 and is set to be even bigger and better with events happening across the UK.
Last year Silver Sunday saw 1,000 events taking place reaching around 50,000 older people.