Create story books for visually impaired children
Published: Wednesday, September 11, 2019
Southfields Library is hosting workshops to create tactile books for children with visual impairments and learning difficulties.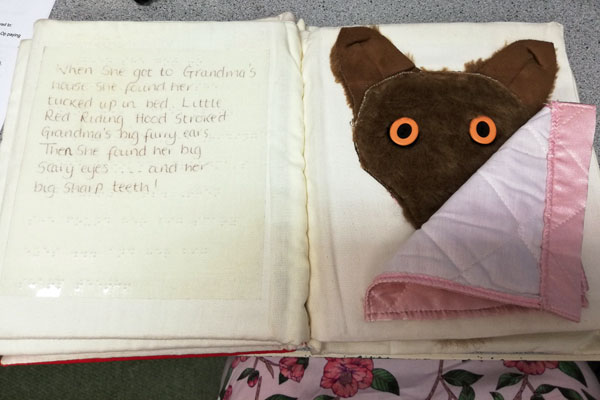 The workshop will be run by the charity Clearvision and the finished story books will be accessible to nearby Linden Lodge school for visually impaired pupils, through Clearvision.
Tactile books are books in which all the pictures are made up of different shapes and textures, specifically designed to be explored by touch. They let children who have little or no sight enjoy picture books just like sighted children do, and help them build up valuable touch skills which will be useful in all areas of their life, especially if they might learn braille.
They can be made of collage, fabric, 3D printing, found objects, and in many other ways.
Cabinet member for community services Cllr Steffi Sutters said: "We're delighted that Southfields Library is offering this space to Clearvision. This sort of project benefiting local communities is exactly the sort of thing our libraries should be used for and I hope lots of people sign up for the workshops so plenty of books can be made accessible for Linden Lodge."
The workshops will be on Wednesday October 2 and October 23 at 7.30pm, with follow-up meetings on  Wednesdays at 5.30pm and Fridays at 10am to collate the pages.
Booking is essential, so speak to a member of the staff at the library, or call (020) 8780 1945.
Events are held throughout the year at all borough libraries – see a full monthly list.
October is Black History Month, with more than 20 events at libraries across the borough. Some need to be booked in advance – see full details.