Development milestone reached at York Gardens
Published: Friday, September 27, 2019
A milestone has been reached at Winstanley-York Road regeneration that will see Thames Christian School and Battersea Baptist Church relocate to larger, new premises in 2021.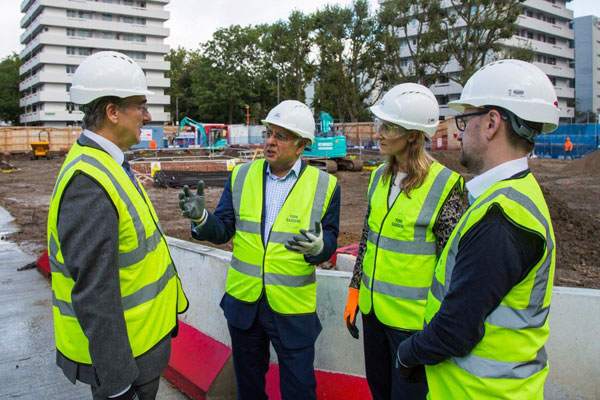 Once the new building is completed the existing properties will form part of the wider regeneration scheme which is being delivered by the Winstanley & York Road Regeneration Joint Venture (a partnership between Taylor Wimpey Central London and Wandsworth Borough Council that is leading the regeneration).
Meanwhile, the new building – which will house both the school and the church - will be located on Grant Road, close to Clapham Junction station, and will provide the school with more than five times its existing space, giving it a platform to expand and welcome more students.
The relocation of the school and church forms part of major plans drawn up by Winstanley & York Road Regeneration to breathe new life into the estate. Under the proposals, 2,550 new homes would be provided, 35 per cent of which are to be affordable, including replacement homes for all existing secure tenant and resident leaseholders, as well as new community facilities including a state-of-the-art leisure and community centre, a library, a children's centre and nursery.
Councillor Ravi Govindia, Leader of Wandsworth Council, said: "Thames Christian School is a valued and respected school within our borough. The school has a strong commitment to taking children with autism and learning difficulties. This is a great milestone as part of the Winstanley and York Road Regeneration that will see the school expanded, giving pupils better access to facilities and a greater opportunity to thrive. This regeneration scheme is not only building new homes but will renew the fabric of the area and the life chances of the people who live on these estates though the improvement and development of community facilities."
Lee Bishop from Taylor Wimpey said: "Securing quality, new premises for the school and church are a key part of our regeneration plans, and this agreement enables an important stage of the proposals to come forward. We've worked closely with both parties to reach this stage and are delighted that they will be accommodated in the new building by 2021. It enables existing estate residents to move back into high-quality new accommodation in the same location."
Stephen Holsgrove, Headteacher of Thames Christian School, added: 'We are delighted to be moving forward with our new school building which will drive the school's vision creating an environment where every pupil can flourish and achieve. The new building is ideally located next to Clapham Junction station and will have some outstanding facilities including: multiple science laboratories, dance/drama/graphics/textile/music studios, library and a sixth form centre, all within a contemporary, fit for purpose environment reflecting the school's open ethos. We are very grateful for our partnership with Wandsworth Council and Taylor Wimpey who have supported us in this significant and exciting project in the development of Thames.'
A masterplan planning application for the regeneration of the Winstanley and York Road estate was submitted by Winstanley & York Road Regeneration earlier this year, with a decision expected later this year.
Key benefits within the application include:
The provision of up to 2,550 new homes, 35 per cent of which are to be affordable
A mix of tenures including social rent, shared ownership, shared equity, affordable rent, private rent and open market sale
The re-provision of all council rent and resident leaseholder homes to be demolished, ensuring that no existing secure tenant or resident leaseholder will be required to permanently relocate from their community
Major new community infrastructure, including a state-of-the-art leisure and community centre, a library, a children's centre and nursery
The creation of a new public park is at the heart of the development. Totalling 2.49 hectares, this new open space will offer a greater range of amenity and increased accessibility, enabling many more homes to benefit from its use.
Significant economic benefits, including: in excess of 388 net additional permanent jobs and gross value added (GVA) to the local economy of £207.6m
A new council employment and skills centre has already been delivered as part of the regeneration, whilst construction work for 46 of the first affordable homes is well advanced.
For more information visit www.winstanleyyorkroad.co.uk
About Winstanley & York Road Regeneration LLP
Residents were consulted to establish their preferred approach to the improvements and of those residents that expressed a view, the majority voted for a comprehensive strategy based on demolition and rebuild. 
The council began the search for a development partner in 2016 through an OJEU process, and selected Taylor Wimpey in 2017. Together the partners formed Winstanley & York Road LLP.
Wandsworth Council began consulting on potential improvement options for the estates in 2012.
ENDS