Get help to quit this Stoptober
Published: Friday, September 27, 2019
Ditch nicotine for good by signing up to the 28-day Stoptober challenge.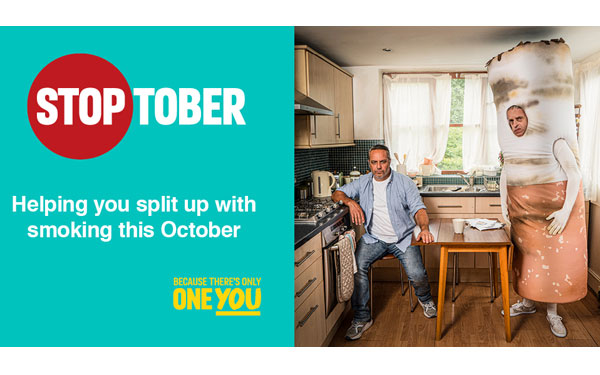 The Stoptober campaign, which runs throughout October, shows that if you can stop smoking for 28 days, you are five times more likely to stay smokefree for good.
People who use stop smoking aids and who get face-to-face support from their local stop smoking service are up to four times more likely to quit successfully. During Stoptober last year more than half of smokers who signed up to the challenge were successful in quitting.
Yvonne Heath smoked 20 a day for 50 years before finally deciding to stop. She did a six-week course at the stop smoking clinic at St George's Hospital, and has been smokefree for six months.
"The care I got there was unbelievable and I couldn't have done it without their help. They took the time to talk to me, listened to me and encouraged me – they were brilliant. When I think of the effect smoking had on my health and the money I spent – I might as well have burnt it – I really regret it, but the beautiful ladies at St George's told me not to regret the past but to look forward.
"Smoking has an impact on all areas of your life, but I didn't even realise it at the time because I was walking around in a cloud of smoke. I feel so much better now and my grandchildren tell me how much fresher my house smells."
Sign up to Stoptober and you will be offered a range of free help including an app, daily emails, Facebook Messenger and encouragement from the Stoptober online community on Facebook.
In Wandsworth you can also get free expert face-to-face advice from local stop smoking services. Wandsworth Council provides a free Stop Smoking service offering confidential face-to-face advice and support from specialist advisors, as well as free stop smoking materials and medication such as Nicotine Replacement Therapy.
Wandsworth's smokers who are unable to commit to the four- to eight-week, face-to-face council programme can also call a telephone service for residents. Call the free number 03001231044 to request a series of individual regular phone calls from a specialist advisor.
The council's health spokesman Melanie Hampton said: "Yvonne's story shows that no matter how long you've been a smoker, it is always possible to quit with the right support. Face-to-face meetings worked for her, but if you are concerned about finding the time, there's lot of other ways you can get help online or over the phone.
"It's hard to stop smoking, but when you stop you'll feel so much better and will save hundreds of pounds a year. If you don't know where to start, sign up to Stoptober and take it from there."
To access personalised support from the Stop Smoking Service to help you give up any tobacco product, including cigarettes and e-cigarettes, visit our stop smoking pages
Call the telephone helpline on 0300 123 1044