Love Parks summer draws to a close
Published: Thursday, September 26, 2019
The final Love Parks Wandsworth event was a party for the many friends' groups, management advisory committees (MACs), community organisations and others who help protect the borough's green spaces.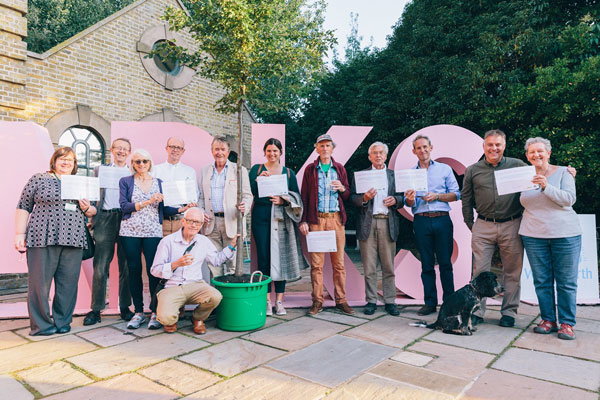 Each of the friends' groups and MACs was presented with a sapling at the event to thank them for their help making Love Parks a success.
The summer campaign celebrated the importance of parks and greenspaces and their positive impact and led to many people discovering their local park for the first time.
"It really has been a fabulous summer to remember and installed a great feelgood factor in the borough," said Cllr Steffi Sutters, cabinet member for community services and open spaces.
"We are constantly investing in our parks and, as a result, we are proud to have some of the most beautiful green spaces in London. So, I am very pleased that so many people of all ages have seen for themselves what Wandsworth has to offer and engaged in the many events and activities or just gone for a stroll in their local park.
"And I'd especially link to thank all the friends' groups, MACs and community groups who do so much to protect our green spaces. We're keen to stay in close contact with all of them, and we're willing to help any group or individual who would like to set one up."
More than 250 events were held over the summer from augmented reality Easter egg trails to fun runs, silent yoga and community picnics.
The campaign launched in April when the virtual world met the real one at Battersea Park over the Easter weekend, in a state-of-the-art egg hunt. Wandsworth Council developed a free interactive augmented reality app in which families were able to follow a trail and use their smart phones to find virtual Easter eggs around Battersea Park.
During May, the council helped raise awareness of mental health and how parks and greenspaces can help improve your mental wellbeing. Hundreds of people joined organised walks and talks, free fitness sessions and free gym passes as part of Mental Health Awareness Week.
Every Saturday and Sunday in June, Battersea Park hosted a huge variety of fun activities for all the family. Highlights included the biggest ever Battersea Park Dog Show, big brass bands at the annual live Music at the Bandstand, a series of outdoor film screenings for children, afternoon tea at the bandstand and an abundance of street food and drinks.
The newly-formed Friends of Coronation Gardens held a community picnic as part of National Picnic Week/Love Parks Week in July.  Local families enjoyed an afternoon of music and activities in the picturesque gardens.
Thousands of residents embraced Love Parks Week in July, by joining in with one or more of the 20 events which took place over eight days. Events included walks, talks, picnics and playground openings.
July also saw free, open air screenings of FIFA Women's World Cup semi-final (supported by Mayor of London and Wandsworth Council) and the ICC Cricket World Cup games in Battersea Park. Thousands of fans flocked to Battersea Park to cheer on their teams in the warm summer sun.
Throughout June, July and August Wandsworth Council partnered with local running club, Clapham Chasers, to deliver free family fun runs in Battersea Park. More 900 people signed up to the 5km fun run.
Find out more about the borough's parks at https://enablelc.org/parks.
If you are interested in setting up a friends' group, email parks@enablelc.org.