New approach to the arts in Wandsworth
Published: Friday, September 20, 2019
As part of its commitment to supporting and promoting art and culture in the borough, Wandsworth Council is embedding its arts team at the centre of its work.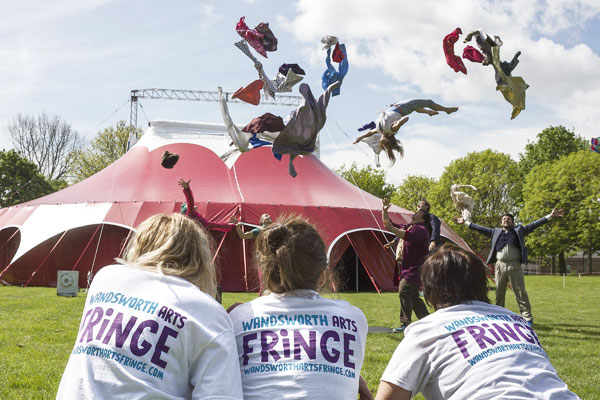 The arts team will now be part of the council department responsible for economic development and for work to strengthen communities and partnerships.
And it will work closely with the council's children's services, housing and planning departments and the teams working on the regeneration of the Alton and Winstanley and York Road Estates. The team will lead the development of a new cultural strategy for the borough, as well as feed into plans being drawn up to breathe new life into town centres.
Culture will be at the heart of wider council plans and priorities, such as supporting residents to live healthier lives, raising the aspirations of young people, strengthening communities and working with the cultural sector and with developers to make sure Wandsworth residents benefit from regeneration and the rapid growth of the creative industries.  
The Wandsworth Arts Fringe is a major annual arts festival held at venues across the borough that last year attracted an audience of almost 25,000 and worked with 517 artists and it will remain a key part of the arts team's role. As well as making arts accessible, WAF aims to strengthen local communities and highlight the borough as a centre of culture.
Wandsworth Artists Open House event will continue to be held each October. Held over two weekends, it sees Wandsworth artists open their homes and studios to local people, and will also continue to support Wandsworth's amateur and professional artists and organisations.
The arts team will continue to run the Cultivate Schools programme which helps young people discover their creativity and navigate the pathways into employment in the creative sector. Wandsworth is one of the few boroughs to work directly with schools in this area, and work is underway to develop a 'curious and creative' Wandsworth schools curriculum.
Wandsworth Council's cabinet member for community services Cllr Steffi Sutters said: "'We want creative industries and art to prosper in the borough and as many of our residents as possible to benefit as we know that they have such an important role to play in promoting wellbeing.
"Our leisure contractor Enable has done incredible work over the past few years raising the profile of the arts in the borough and making the Wandsworth Arts Fringe south London's premier arts event. Now the time is right to ensure the arts are tightly embedded in everything the council does."
"That way we can ensure our young people who want to work in the creative industries can get the skills and support they need, our planners can think about arts and culture before developments are built and our town centres can become thriving, vibrant and diverse arts hubs, leading to new local jobs and businesses."