One week till Brighter Living Fair
Published: Friday, September 13, 2019
The Brighter Living Fair is just one week away and people with care and support needs who want to go along are urged to book now to secure their free space.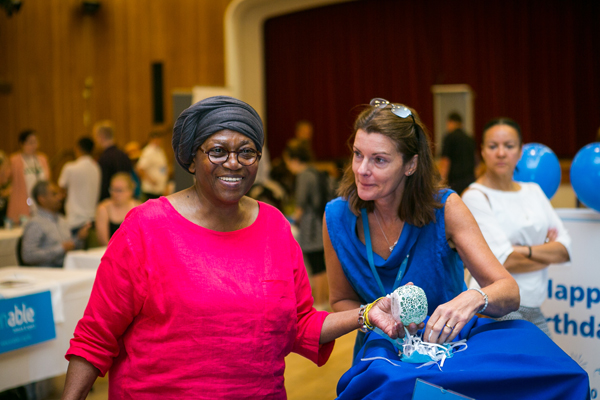 Wandsworth's adult social care team is holding the free event on September 20 and have released more details about the organisations that will be giving out information and advice.
And for the first time, as part of its pledge to become carbon neutral by 2030, Wandsworth Council has announced it will not be using any single-use plastics at the event, and has asked stallholders not to use them either.
There will be almost 50 stallholders – many more than last year – ranging from council services including the adult social care team, advice from the Government on the Carer's Allowance and organisations including the Alzheimer's Society, Age UK, Hestia, Paul's Cancer, Regenerate RISE, Thrive and Shopmobity.
Local health services will be there, including Healthwatch which represents the views of patients, and St George's Hospital. Citizens Advice will be offering support, and financial advice will be available from the council's Financial Assessment Team and a community banker from NatWest who will advise on accessing financial services and how to keep your finances safe online.
Some stalls will be focusing on health, fitness and lifestyle support, including Talk Wandsworth, Enable Leisure and Culture and the Putney School of Art and Design and there will also be taster events and workshops including drop-in art and mosaic classes, classes on exercise and relaxation techniques, drumming and drama workshops and a workshop on the Carer's Allowance.
You can also chat to council staff directly about key local services and take part in a Your Day Your Say workshop to give your views and help shape services in the future.
Refreshment will be available at the all-day café, free of charge.
The council's cabinet member for health and social care Cllr Melanie Hampton said: "Dozens of organisations have asked to be part of this year's event, and so far hundreds of people have booked their place – but we want as many people to come along as possible, so get your free ticket now.
"I'm particularly delighted that this is the first big event run by the council which will be single-use plastic free. It's a small step, but it's a significant one on our firm commitment to tackle climate change and become carbon neutral."
Book your place here.
For more information visit www.wandsworth.gov.uk/brighterliving or call (020) 8891 7151.
ENDS
Notes to Editors
A full list of stallholders is below
Adult Social Care
Age UK Wandsworth
Alzheimer's Society
AMEA UK (Ahmadiyya Muslim Elders Association)
Baked Bean Company
BlindAid
Brain in Hand
Caremark (Wandsworth)
Citizen Advise
Creative Minds
Direct Payments Team
Disability Field Trip Services Ltd
DORCAS (Doing Others Right Caring And Sharing)
DWP - Carer's Allowance
Early Education and Childcare Team
Edyn Care
Enable Sports and Leisure
Financial Assessment Team
Generate Opportunities
Healthwatch Wandsworth
Hestia
Housing
Katherine Low Settlement / SEN TALK
Lyle House Care Home
Managing Care Ltd
Medequip Assistive Technology
My Life Films
Natwest – Balham Branch, Community Banking
Older People's Forum
Onetrust
Pauls Cancer Support Centre
Putney School of Art and Design
Quality Assurance and Monitoring Team
Regenerate Rise
Richmond and Wandworth Safeguarding Board
Share and Care Homeshare
Share Community
Spectra London
St George's University Hospital
Talk Wandsworth Wellbeing Service
Tenovus Cancer Care
Thrive
Vibrance / Hail
Wandsworth Carers Centre
Wandsworth Community and Partnerships
Wandsworth Community Transport/Shopmobility
Wandsworth Homecare Providers
Wandsworth Self-Management Service
Workshop 305 Community Interest Company