Ram Inn reopening
Published: Wednesday, September 25, 2019
A new pub is opening on the site of the old Brewery Tap in Wandsworth Town Centre next month and will bring back the pub's original name – the Ram Inn.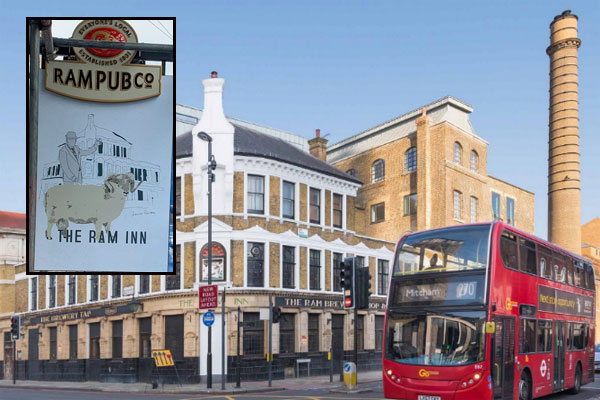 The Brewery Tap closed back in 2006 and has been empty ever since. The new pub will be run by Lee and Keris De Villiers, who also run the Pig and Whistle and Old Sergeant in Garratt Lane. The old Ram Inn name dates back to 1581.
The pub used to be part of the old Youngs Brewery site and is a grade II listed building. The new pub has retained its original features and will be opening with its very own brewery on site called SlyBeast Brewing. The downstairs will have a 'proper pub' feel and upstairs will feature a taco truck, floor shuffleboard and a frozen margarita machine. Doors open on October 10 and the official launch party will be on November 1.
Local brewers Sambrook's is also moving to the Ram Quarter from its present premises in Battersea. Together with SlyBeast it will continue the town's 500-year brewing heritage, which remains unbroken because brewer John Hatch has continued to brew small batches at the site.
Wandsworth was the first local authority in the country to bring in measures to protect its most important pubs from redevelopment.  The Campaign for Real Ale (CAMRA) have said the council's use of Article 4 Directions 'gives out a very clear message' to potential developers that turning pubs into shops or homes is unlikely to be permitted, and that the regeneration of the borough was likely to lead to more demand for pubs in the future, not less.
Wandsworth had a net gain of five pubs between 2017 and 2018, Mayor of London figures show, and the number of people employed in small neighbourhood pubs increased by 25.
Deputy council leader Cllr Jonathan Cook said "It's great to see brewing return to Wandsworth and I look forward to the long-shuttered doors of the Brewery Tap reopening as the Ram Inn in the heart of Wandsworth Town Centre.
"This is good news for the Ram Quarter and for Wandsworth and is another sign that the wave of pub closures in London over the past few years is slowing or even reversing in Wandsworth. I look forward to enjoying a pint at the Ram."
The creation of the Ram Quarter and the reopening of the landmark pub are key parts of the council's regeneration of Wandsworth Town Centre.   Construction is well advanced on 200 new homes, a better public library and a new green public space in the High Street and Garratt Lane.
The council is also working closely with Transport for London (TfL) to remove the Wandsworth one-way system. The timetable for the work has been set by TfL and construction is expected to start in April 2022.