School pupils in Wandsworth given safety lessons and shown how to be Junior Citizens
Published: Wednesday, September 25, 2019
More than a thousand children from Wandsworth's primary schools are about to take part in special lessons that use real life scenarios to help them stay safe, avoid dangerous everyday situations and how to save a friend's life.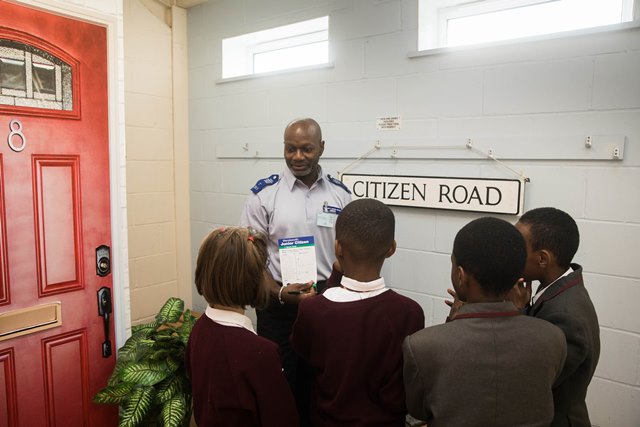 The lessons are key themes of the town hall's landmark Junior Citizen scheme which teaches year five pupils how to cope with dangerous and potentially life-threatening situations they could encounter in everyday life.
Around 2,000 ten-year-olds take part in the scheme every year – with sessions held every March and October at Southfields Academy. It began in 1988 and is the longest running initiative of its type in the UK. Many of the lessons are delivered by uniformed emergency services personnel like police officers, firefighters and paramedics.
The children play active roles in 12 different "real life" scenarios which include avoiding so called "stranger danger" situations, the risks of online grooming, steps they can take to reduce the chances of them becoming a victim of crime, staying safe in the kitchen and the risks and hazards of playing on or near railway lines or near lakes and rivers.
Often what is learnt in one scenario will be reinforced in another. For example, children are taught how to identify dangerous drugs, and are then led into a 'derelict house' scenario where those substances are present.
Other aspects of the scheme include lessons on first aid including how to administer CPR and placing people in 'the recovery position', how to how to make a 999 call, escape a fire and also how to be a good citizen, such as helping elderly neighbours.
Following March's sessions when 1,019 pupils from 21 schools took part, 90 per cent of teachers thought the safety messages had been delivered very effectively, while 100 per cent said they were very satisfied with their visit to the scheme.
Feedback they gave included: "Engaging, well-paced and brilliantly organised"; "Fantastic information, plan to revisit back in school with pupils and families"; "Such an effective scheme, the children come away with a lot" and "All scenarios are very good".
Chairman of the Wandsworth Junior Citizen Scheme Cllr Richard Field said: "This is an excellent initiative that helps so many of our young people overcome the kind of difficult, and potentially life or death situations they could be confronted with in their day-to-day lives.
"Through the use of actors and role play in real-life scenarios they learn how to keep calm, think quickly, and most importantly remain safe. They also learn how to help others who may be injured and how to act as good citizens.
"We're very proud of our scheme which has been providing these important messages to young people in Wandsworth for more than three decades."
The Wandsworth Junior Citizen Scheme is an ongoing collaboration between the council, the Metropolitan Police, the London Fire Brigade, British Transport Police and The Royal National Lifeboat Institution (RNLI).
To find out more about the scheme, or if you are a local business or community group that would like to become involved, visit www.wandsworth.gov.uk/juniorcitizen.
The 12 scenarios the children take part in are as follows;
Rail Safety – The dangers of going onto the railway and how to stay safe at stations
Street Smarts – Looking at safe routes during the day and why they may not be safe at night
Water Safety – What to do if you see someone drowning and keeping safe around water
Fire Safety – How fire can spread quickly and what to do in specific situations
Online Safety – Staying safe when using social media and how to report online bullying
First Aid - How to help someone who's unconscious, the recovery position and contacting emergency services
Road Safety – How to stay safe when crossing roads and riding bicycles
Vandalism and Graffiti – How this can impact on communities and harm people's surroundings
Personal Safety – The dangers of carrying a knife, what to do if threatened by one and how to report knife crime
Home Safety – Raising awareness of hazards around the home and how to avoid them
Health issues – Understanding what medicines look like, how and when they should be used and the importance of storing them safely
Citizenship – Being observant of your surroundings, looking out for friends and neighbours and keeping safe.