Second phase of road safety measures unveiled for Tooting Bec neighbourhood
Published: Friday, September 27, 2019
The council has unveiled plans for a further series of traffic calming measures to deter through traffic and improve pedestrian safety in a neighbourhood in Tooting Bec.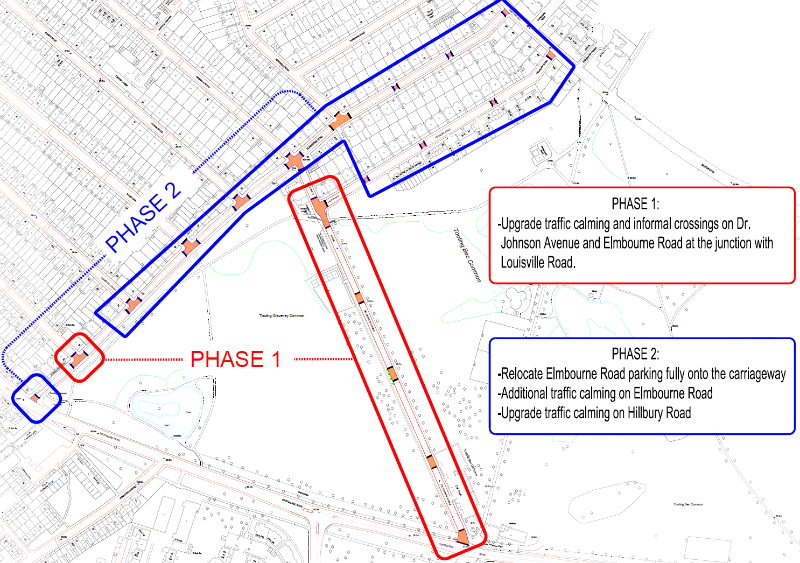 Town hall traffic engineers are to seek approval to carry out a second phase of works to improve safety in Elmbourne Road and Hillbury Road.
Earlier this year a raft of safety measures were introduced in Dr Johnson Avenue and also at the junction of Elmbourne Road and Louisville Road.
Councillors on next week's finance and corporate resources overview and scrutiny committee will be asked to approve funding for the scheme. Some of the money would come from NCIL budgets – or Neighbourhood Community Infrastructure Levy funds, which are derived from developers to help fund local community improvement projects.
This phase of the scheme - which could commence in early November - would see raised flat top speed tables – which are designed to reduce vehicle speeds and provide safer crossing points for pedestrians - installed at eight locations along Elmbourne Road – at its junctions with Tooting Bec Road, Drakefield Road, Streathbourne Road, Huron Road, Manville Road/Hillbury Road, Bushnell Road and Bedford Hill.
Another traffic calming measure would be installed at the junction of Hillbury Road and Bedford Hill while existing infrastructure in Hillbury Road would be upgraded.
Pavement space in Elmbourne Road would be widened by the removal of parking bays that have previously permitted footway parking. Double yellow lines would also be introduced at key locations to prevent dangerous parking and improve sight lines for both pedestrians and road users.
The proposed changes are designed to reduce traffic flows and improve safety levels for pupils and parents on their walk to and from St Anselm's primary school.
Designs for both phases of the project were drawn up following receipt of petitions from residents in this area of Tooting Bec.
The town hall's transport spokesman Cllr Paul Ellis said: "Local people have asked us to take action to reduce traffic levels and improve pedestrian safety in this part of Tooting so I am delighted that this second phase of works could soon get underway.
"We think these measures would have a positive impact on the area and make the routes to and from St Anselm's that bit safer for children and their parents."