Gold Award for Wandsworth in this year's RSPCA PawPrint Awards
Published: Friday, September 20, 2019
Wandsworth Council has achieved a Gold Stray Dog Award for its commitment and efforts to improve animal welfare in the borough.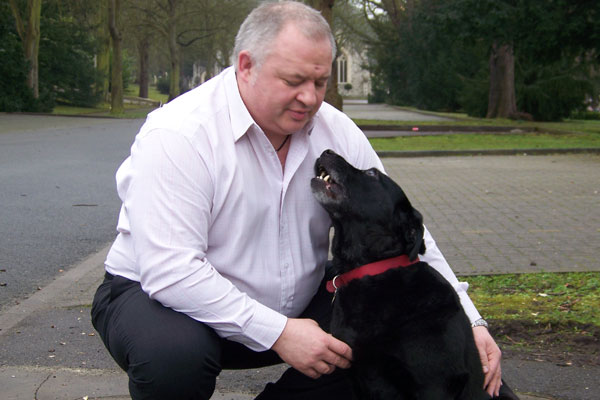 Now in its 12th year, the RSPCA's PawPrint Awards celebrates local authorities, housing providers and police officers who have gone above and beyond for animals in their communities.
The awards include five PawPrint categories, awarded in either bronze, silver or gold, to recognise achievements in Stray Dog Services, Housing Policy, Animal Activity Licensing and more. The council's animal welfare team achieved a Gold Stray Dogs Award and a Gold Housing Award. This year 95 awards were given to local authorities with sixty per cent at gold level.
The Stray Dog Footprint awards main aim is to set a level of good practice for stray dog provision, by acknowledging local authority services that have mechanisms and policies in place to ensure dog welfare and promote responsible dog ownership. 
A special recognition accolade was given to Mark Callis, Animal Welfare Services Manager for Wandsworth Council. Mark is one of three named winners of this prestigious award, but the only winner from a local authority, which recognises his substantial impact on animal welfare in the borough.
Rachel Williams, senior parliamentary advisor for the RSPCA, said: "I am delighted that so many local authorities, housing providers and other public service organisations across England are continuing to prove their commitment to animal welfare. That they continue to do so, despite all the current political uncertainty and huge pressures on their budgets and staff, is a real testament to their hard work."
On Mark Callis's Special Recognition award, Rachel added: "Mark has worked tirelessly to protect and improve animal welfare for 35 years. No one can question his commitment or expertise in his field. Mark has not just been an exemplary animal warden in this time, he has also become one of the country's leading lights in his field.
"He has been instrumental in driving Wandsworth to become a beacon of best practice, including winning RSPCA PawPrints for both his housing and stray dog services for eleven straight years, two Innovator in Animal Welfare Awards and last year's Innovator of the Decade.
"He is increasingly leading the way in tackling issues with animal welfare at local authority level, and stray dog services in particular. "
Mark's award was judged by a panel made up of individuals from the RSPCA, Chartered Institute of Environmental Health and an academic expert on animal welfare law from the University of Aberdeen.
Mark Callis, said: "Having spent the past 32 years working in the Animal Welfare Service (formally known as the Dog Control Service), I have seen a lot of changes within our community and in dog ownership. 
"I have been fortunate to be at the forefront of Wandsworth's ambitious, innovative, and often unique approaches to managing our dog population in a fair, consistent and dog friendly way.
"I am pleased and proud of what we have achieved, and to receive such a prestigious award like this makes me feel very honoured and humbled.  I love dogs and so do many of our residents, I look forward to helping those dog owning residents to be the best they can for their animals and our community. 
"I would like to thank the RSPCA for their support over the past 32 years, and for promoting excellent standards for local authorities to work to, through the Paw Print Awards."
Cabinet member for Housing, Councillor Kim Caddy, said: "I'm absolutely delighted that the council has achieved this top award. It's great recognition of our efforts and impact to improve animal welfare in the borough. We are committed to ensuring dogs in the borough are well taken care of and we work closely with our residents who are dog owners to make sure that is the case."
The team will be presented with their award at a special winner's reception in London on the on November 26.
The awards are supported by the Local Government Association, along with the Chartered Trading Standards Institute and the Chartered Institute of Environmental Health.