Battersea neighbourhood has the spark with 120 electric vehicle chargers
Published: Thursday, September 3, 2020
Work is now complete on a pioneering project to fit electric vehicle sockets to every suitable lampost in a Battersea neighbourhood that is now thought to have the highest concentration of charging points anywhere in the country.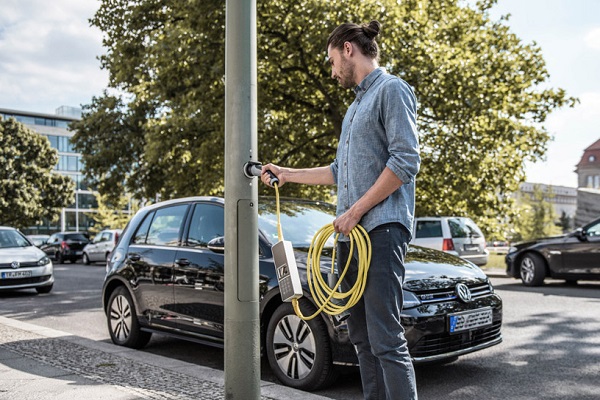 The 21 residential streets in this part of Battersea's Shaftesbury ward now offer 126 charging sockets - all installed in existing lamposts to provide a simple, convenient and cost-effective boost to efforts to promote this form of greener and more eco-friendly motoring.
The concentration of so many chargers in an area of less than a third of a square mile is believed to be the highest in the country.
Attention is now turning to an area of Putney's Thamesfield ward where every suitable lampost is also about to have sockets fitted.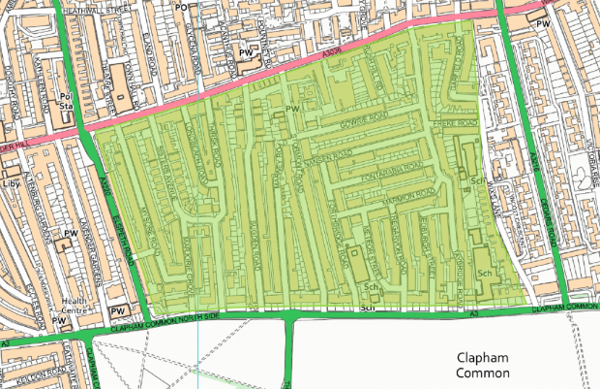 This area of Battersea is believed to have the highest concentration of charging points in the UK
There is increasing demand for charging socket in these two areas, partly because they will both be affected by the current Mayor's plans to expand the Ultra Low Emission Zone (ULEZ) in the autumn of 2021 to include all areas within the north and south circular roads.
If the ULEZ is extended as currently proposed, all vehicles and motorcycles which drive within the zone but don't comply with its emission restrictions will have to pay £12.50 a day – but electric vehicles will be exempt.
Transport spokesman John Locker said: "This is great news for people living in this part of Battersea who are thinking of making the switch to electric.
"By fitting sockets to as many lamposts as we can in these two neighbourhoods we are helping to make electric vehicle ownership a realistic prospect for our residents. Providing this level of infrastructure is the kind of game changer that makes it a viable option.
"We want to be pioneers in promoting more eco-friendly forms of transport and part of that is doing what we can to help persuade people who do need their cars to ditch diesel and petrol and go electric."
In this part of Battersea the largest number of sockets will be in Mysore Road where 12 have been installed. Next come Stormont Road and Sugden Road with ten each, followed by Gowrie Road and Marmion Road with eight and Fontarabia, Road, Marney Road, Forthbridge Road and Thirsk Road with seven.
This latest investment is helping the council meet its target of delivering nearly 900 on-street charging points in total.
This phase will bring the total of publicly available EV charging points to around 560, with a further 140 planned before the end of this year and more installations to follow in 2021.
Meanwhile the annual number of plug-in vehicles bought by people living in the borough has grown from 252 in 2012 to 4,527 in 2019 – with numbers rising by more than ten per cent every three months.
The council's own fleet of cars, vans and lorries is gradually being replaced by electric versions. All will eventually go electric as suitable vehicles become available.
There are also EV choices available for those who don't need to own a vehicle but want to enjoy occasional eco-friendly motoring.
The Zipcar Flex car club includes a proportion of EVs, offering a convenient and eco-friendly alternative to car ownership, providing electric vehicles to hire by the hour, day or longer periods. Wandsworth has the highest take-up rate of car club membership in the country with more than 31,000 registered members.
For more information about electric vehicle ownership in the borough visit www.wandsworth.gov.uk/driveelectric
To find out more about how the council is working to improve local air quality visit www.wandsworth.gov.uk/airquality. 
Last year the council declared a climate emergency and unveiled ambitious plans to tackle climate change. The aim is to make Wandsworth inner London's greenest borough by becoming carbon neutral by 2030 and carbon zero by 2050. To find out more visit www.wandsworth.gov.uk/climatechange.