Council leader receives warm welcome in Battersea
Published: Tuesday, September 29, 2020
Council leader Ravi Govindia and the Mayor of Wandsworth Cllr Jane Cooper were given a warm welcome when they paid a fact-finding visit to housing estates in east Battersea.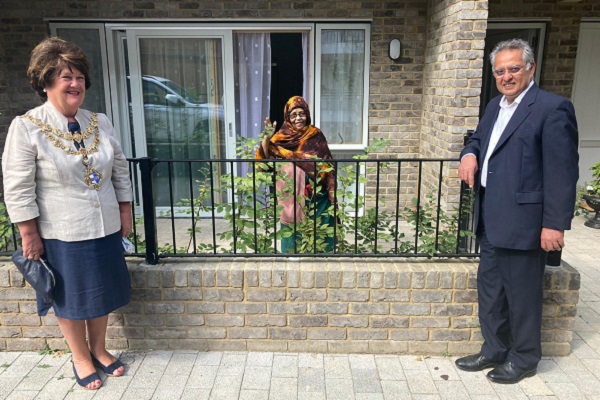 While visiting the area the councillors were greeted by local resident Abdishakoor Saeed who expressed his thanks and gratitude to a number of council officers for helping his mother move to a ground floor property in Deeley Road.
He explained the move was necessary because of his mother's age and health and paid a glowing tribute to staff in the housing department for helping the move proceed smoothly.
In a letter he subsequently wrote to Cllr Govindia, Mr Saeed said: "It was an honour to see you yesterday with the Mayor at our new home. My mum is passing on her regards to all of you. We would love to host you once things are back to normal and share with you traditional Somali food in our new back garden.
"As mentioned, due to my mum's age and health, she needed to move to a ground floor property. She can no longer climb four flights of stairs to reach her front door. But at the same time, my mum needed to stay in the area she knows well, close to her daughter who cares for her, and close to her friends and support network. Considering the above requirements, my mum is very happy with her new property and can't thank the council enough.
"Moving home is very stressful, and emotional because we lived in the same property for 22 years, but the council staff have been very helpful to us: - They prioritised us and gave us first choice – they helped with the move by arranging and paying for the removals - they are planning to help us with an under counter fridge freezer since our existing one can't fit the property layout - They are planning to pay us a downsizing incentive.
"The following people deserve special mention: Sasitha Surenthirakumar from the mobility and allocations team: this lady went above and beyond to make the move as smooth as possible. And is still helping us.
"Laura Gavin from Eastern team: very humble lady who sat on the floor outside the front door while my mum signed the new tenancy agreement and gave her the new keys. My mum couldn't go to Putney to protect her from contracting the virus.
"The local cleaning team: we dumped so much rubbish and the next morning it was cleared. Really efficient and impressive.
"You as the Leader. As long-term residents, we see the improvements in the area over the past decade and it's no coincidence that you have been in power for most of that period. Also, we are proud to see someone who understands the refugee experience in a position of power, someone who can relate to us and understand our struggles.
"Once again, we appreciate your visit and hope to see you again."
Cllr Govindia said: "It was a truly humbling experience to listen to what Mr Saeed said and how he felt that he and his mother had been supported and assisted by the council.
"When you hear just what a positive impact you can have as an organisation – not by doing anything particularly special, but just by fulfilling the core duties you have as public servants - just doing your job – it does give you a real sense of satisfaction and spurs you on to do more.
"I'm just delighted that when our help and support was needed it was given without fuss or ceremony and that as a result we were able to make a difference to this local family's quality of life."