Housing for All: Randall Close planning application gets the green light
Published: Friday, September 25, 2020
Wandsworth Council's plan to build 106 new homes in Randall Close, Battersea was unanimously granted planning permission on Tuesday evening.
The development on land in the Surrey Lane Estate, is part of the council's Housing for All commitment to building 1,000 new homes prioritised for Wandsworth residents and workers with at least 60 per cent across the whole programme being affordable tenures. All sales receipts from market sale homes are being reinvested into the programme.
The development includes 27 new low-cost rent homes and 22 homes for shared ownership. A further 57 homes will be for market sale, prioritised for Wandsworth residents and workers.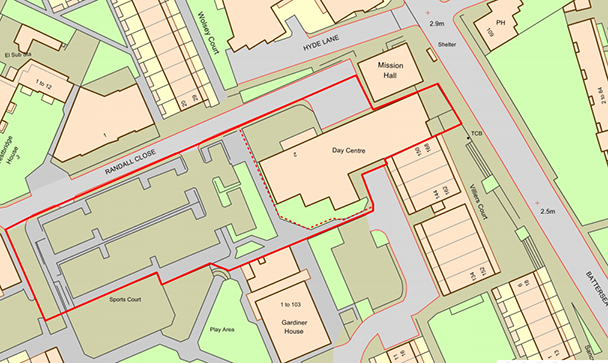 The site of the proposed development
Several consultations with residents on the estate have taken place over the last two years and helped to shape the council's plans.
This has included the council committing to replace all lost parking spaces, make improvements to existing estate play areas as well as wider landscaping and lighting improvements across the entire estate to meet secured by design standards.
The scheme also includes a new public square at the heart of the development which will provide a welcoming space for all estate residents and will link to a redefined shared street, improving pedestrian routes for residents into and through the estate.
The development is also energy efficient and includes carbon friendly technologies as well as green roofs which will significantly exceed local planning requirements. Whilst the scheme will necessarily mean the loss of some trees the Council has committed to replace all trees lost and provide more semi mature trees across the whole estate.
Officers have identified planting and greening of the estate as a priority which will continue to be a focus in the continuing development of plans. 
The development will also meet the latest quality, space and design standards required by local and regional planning authorities which include provision for the affordable and private housing of outside amenity space.
The new affordable rent homes will be prioritised for local Wandsworth residents including those living on the Surrey Lane Estate who are looking to downsize from their existing homes.
Such approaches have been successful before in helping to provide local options for social renters to move to and in turn freeing up larger family units for letting.  
Cllr Kim Caddy, Cabinet Member for Housing, welcomed the news.
She said: "It is fantastic to see our Housing for All programme continuing at speed helping us to deliver on our commitment to build homes for people living and working in Wandsworth.
"Our commitment remains to work with local communities to see these developments through and to ensure that developments provide wider benefits to residents including in this case a commitment to significantly upgrade the estate environment."