Performing in the Park
Published: Friday, September 11, 2020
Wandsworth is one of the greenest of London boroughs boasting 32 public parks. In recognition of our council-owned parks and open spaces we are spending the summer celebrating our wonderful green spaces and their many uses under the banner of Love Parks.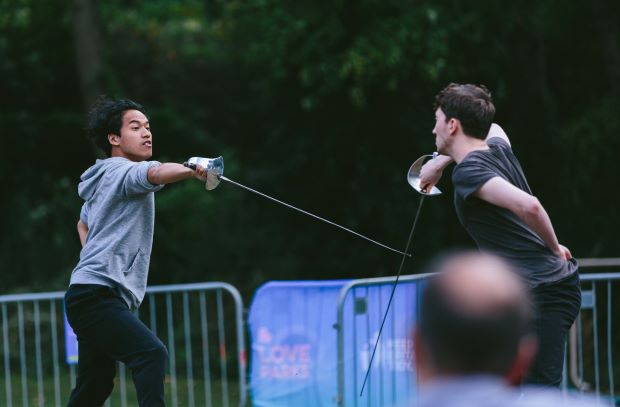 The celebration was a double-one at Shillington Gardens recently as it hosted two plays - so giving residents the chance to see their first live theatre since before lockdown.
Anyone from audience-members, dog-walkers and passers-by could enjoy Shakespeare Out Loud – a selection of scenes from some of the Bard's 'greatest hits – and a new play called Estimated Waiting Time.
Performed in the open air these free events were staged by Lauren Reed Productions and the producer herself was thrilled to be able to bring live theatre to the public once again.
"It was really exciting to be doing this again after such a long lay-off," said Lauren, "And the comments on social media have been so positive such as, 'We've missed live theatre – how wonderful to see it again'. The community aspect was also very important to me because, even when theatres are open, they're not always accessible to people as they can be quite pricey, so it was great to be able to present free live theatre and in total we staged four performances of each production over the two days."
Keeping a careful eye on people's safety plastic chairs were wiped down between performances and separated into small groups to create a makeshift auditorium. Lauren also revealed how the audition and rehearsal process were transformed because of Covid.
"Rather than casting it as who would be best for the role, we had to work out who lived together and who would already be in a bubble together!" she said.
"And we tried to keep those bubbles during the scenes by picking Shakespearian duologues where there would only be two people on stage at any one time. Estimated Waiting Time became a two-hander and most of our rehearsals were on Zoom."
Lauren had originally approached a number of London councils to perform both shows but Wandsworth was the one which jumped at the chance to offer its park for these special events as part of its Love Parks campaign.
"The council was brilliant to deal with," she said. "It really wanted us to perform and told us about all these wonderful outdoor spaces. Its staff immediately took on all the marketing side of things and contacted residents which was really helpful as we only had three weeks to pull it all together. Shillington Gardens is lovely and it would be great to return next year."
She was also full of praise for Wandsworth's Love Parks campaign.
"It's a wonderful opportunity," she said. "There are a lot of people who don't have gardens. So to be able to not only have those amazing parks in the area but also to have a campaign that includes driving entertainment through them is brilliant because it really does make the most of the space and enhance community spirit."
"We were so delighted to host Lauren and her troupe of players," said Cllr Steffi Sutters, the council's cabinet member for community services and open spaces.
"Our parks and green spaces are the scenes for so many different forms of activity and entertainment and they really are fantastic free resources that the whole community can enjoy."
In light of the new rules, banning social gatherings of more than six people from Monday 14 September, we are currently reviewing planned events and activities coming-up to determine whether we can run them.