Quitting smoking more important than ever this Stoptober
Published: Wednesday, September 30, 2020
Wandsworth's smokers who want to take the 28-day Stoptober challenge run by Public Health England can get free local support to help them quit for good.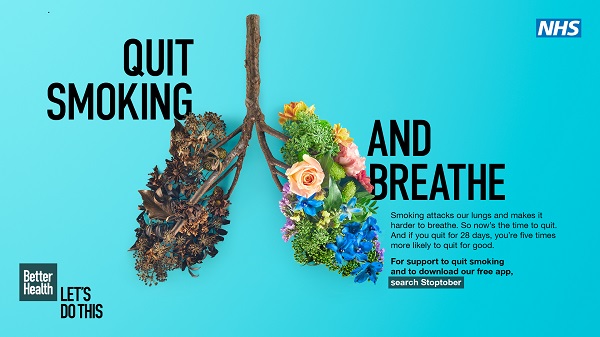 Smoking levels in Wandsworth are below the London and England average, but there are still around 30,000 smokers in the borough and the council makes cutting numbers a priority. In 2018 its Stop Smoking Service helped more than 600 people to quit. 
If you are taking part in the Stoptober challenge you are are four times more likely to quit for good if you get help. The council's Stop Smoking Service offers free support from specialist advisors who can offer you tailored support and recommend the most effective smoking cessation products. You can also access information and support if you have chosen to vape or need help quitting other tobacco products such as Shisha. Telephone appointment are available.
The NHS has free resources to help you quit, including the Stoptober app that gives you daily support, allows you to track your progress and see how much money you're saving. You can also get help from GPs and pharmacies.
Simon from Clapham Junction said: "I've smoked for over 25 years and never managed to stop. The Stop Smoking team were fantastic and I couldn't have done it without them.
"The regular check-ins by telephone helped keep my confidence up and gave an opportunity to change support products along the path to health. I now feel so much better and I've even stopped coughing. Result."
Cabinet member for health and social  care Cllr Melanie Hampton said: "Smoking levels have fallen dramatically in Wandsworth over  the past decade but there is evidence that the use of other, equally harmful, tobacco products like shisha has not.
"The Coronavirus pandemic makes it especially important this year to do all you can to protect your health. Please take advantage of the free health on offer and quite for good for the sake of yourself and your family."