Tooting businesses concerned about damage to trade
Published: Friday, September 18, 2020
Businesses in Tooting have met with Wandsworth Council to discuss their concerns about changes that have been made to the A24 by Transport for London (TfL) and the impact it is having on their trade.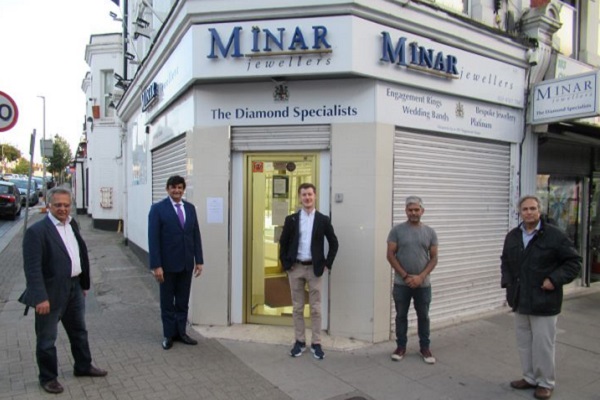 Council Leader Ravi Govindia and cabinet member for Economic Development, Skills and Employment, Cllr Aled Richards-Jones, met with a number of local business owners who are particularly worried about the measures that have been introduced on the Upper Tooting Road by TfL.
They are concerned about the affect these measures are having in Tooting including congestion, poor air quality, problems for emergency vehicles and a reduction in customer parking.
Cllr Govindia said: "The business owners wanted an urgent meeting with us to talk through their concerns and the negative impact that the TfL measures are having on their livelihoods.
"They told us that TfL had not engaged with the business community before the changes and now appear unresponsive to the problems these measures have created in the area.
"As a result they are fearful that shoppers will start to go elsewhere. Footfall in Tooting is down 33 per cent, with some small business owners seeing turnover down as much as 50 per cent which is very concerning. For businesses reeling under the effects of Covid this is the last thing they need. "
One of the biggest impacts has been the removal of disabled parking and loading bays which has caused a lot of inconvenience to elderly customers.
Wandsworth Council recently suspended its own Low Traffic Neighbourhood (LTN) trials after concerns were raised by the community about emergency access and local traffic flows.
Cllr Richards-Jones said: "We have listened to our local residents and suspended our own trials and now would urge TfL to do the same. After speaking to business owners it is clear that they are very worried about the impact these measures are having.
"Tooting is a vibrant, multicultural shopping hub, made up almost entirely of independent businesses, creating a unique and rich environment which is one of the cornerstones of our borough.
"We are being told that this is being threatened by the changes to the local road network that have been imposed by TfL and so we are calling on them to listen to the concerns of our small businesses owners and make the right decision so they can get back to trading normally again."