The Mayor of Wandsworth for 2018/19 was Councillor Piers McCausland.
Cllr Piers McCausland is a Councillor for Fairfield ward. Born in Northern Ireland, he is a graduate of Trinity College Dublin. He has lived in the borough since 1980 and together with his wife Elizabeth brought his family up here. He was first elected to the Council in 1998 and previously served as mayor in 2010. He also served for many years on the planning applications committee. 
He is a retired building surveyor with a degree in Law and was involved in the building and construction industry for many years. He has served as the trustee of several charities and a governor of Allfarthing Primary School. He enjoys walking and is a keen environmentalist.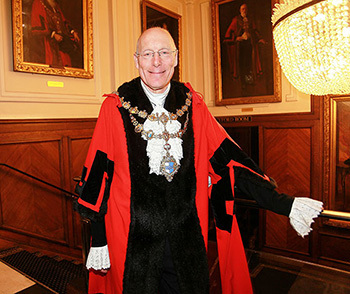 Former Deputy Mayor
Councillor Jane Cooper was the Deputy Mayor for 2018/19.
Cllr Cooper was born and bred in Yorkshire but has lived in Wandsworth for more than 30 years and represents the people of West Putney. 
Charities
The charities the Mayor has chosen to support year are: 
Share Community, which provides training and employment support to people with disabilities.
Leonard Cheshire Disability, which runs the Randall Close Day Centre in Wandsworth helping older people and those with disabilities. 
Wandsworth Community Transport, which helps older and disabled people socialise and get out and about and runs the popular Shopmobility scheme.