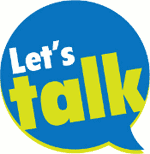 Let's Talk is an opportunity for residents to have their voices and opinions heard on local matters.
Notice
The Let's Talk programme has been postponed due to the current Covid-19 restrictions.

We will be monitoring the restrictions closely. When it is safe to facilitate the meeting of larger groups, further information will be posted on these pages.
About Let's Talk
Meetings are held by ward and residents are encouraged to attend to ask questions directly to Ward Councillors and council officers. The format of the meetings is an open forum, where residents can raise their questions and concerns. Ward Councillors and council officers will do their best to respond. If a query is specific, the relevant officer or Councillor may take the information and contact details of the resident and respond directly to them at a later date. Residents can also arrive half an hour prior to the start of the meeting to speak directly to Ward Councillors and officers. 
For those unable to attend the meeting in person, residents can submit a question online and will receive a response from the relevant council officer.
Let's Talk meetings are held about every month, rotating between the 20 borough wards. On average, a ward has a Let's Talk every two years.
Introduction from the Leader
"I believe Wandsworth can best serve its residents by listening to what they have to say. 
"That's why we have a series of events called Let's Talk.
"I have visited various venues around the borough to hear what local people think about council services, including street cleaning, parking, schools and housing, and what else the council should be doing to meet local needs.
"I also go along to the ward-based Let's Talk meetings, held regularly in each part of the borough, where local people can meet with councillors and town hall managers and raise topics of local concern.
"Anyone who lives in the ward is welcome to go along and ask a question. If you can't be there you can submit a question online.
"Details of upcoming meetings will be posted on this page, and you will also receive a leaflet if a meeting is due to be held in your ward."
Councillor Ravi Govindia, leader of Wandsworth Council
Contact
For more details contact us by email letstalk@wandsworth.gov.uk.