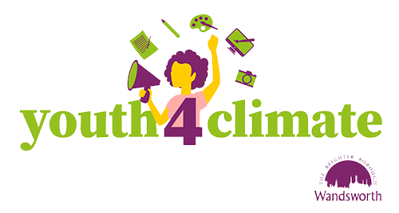 About Youth4Climate
The Youth4Climate poster competition celebrates Wandsworth's talented youth and encourages them to harness the power of creativity to speak up on the serious climate issues we are facing.
Youth4Climate is a competition that seeks to raise awareness about climate change and engage the youth of Wandsworth in the climate change conversation through art, as well as providing a platform for them to be seen and heard.
Competition details
This year we are partnering with youth groups, clubs and children's organisations to promote this year's Together on Climate Change Festival.
The festival in November will bring together people from around the borough to discuss climate change issues and how we as a borough can work together to come up with solutions.
There will be two age categories, 8 to 12 year olds and 12+.
You have to design a poster to focus on actions that we can all take to help tackle climate change and make Wandsworth a brighter and greener place for all. Your entry can be as creative as you like! Maybe your poster is photography, or includes some poetry – think outside the box, but it must be based around the theme of climate change and focus on a positive vision for our local area in the future. For example, your entry might want to focus on actions we can take such as: 
Reduce, reuse, recycle
Walk or cycle when you can
Keep your garden green
Switch of lights and appliances when not using them
Plant native species and bee-friendly plants in your garden or window-box
Donate items you don't need to charity shops or share/swap with others.
How to enter
Submit your poster via your youth club or group.
All entries will go towards creating a collage which will be displayed across the borough to promote the festival.
Entries will then be groups by community areas: Balham, Clapham Junction and Battersea, Putney, Tooting, Wandsworth Town and Roehampton. The winner of each area will get a mystery prize.
If you are not a member of a group email it to youth4climate@wandsworth.gov.uk together with your age category and the community area you identify with listed above.
Closing date: Monday 20 September 2021
Winners will be drawn by our Youth4Climate panel at the end of September 2021.
If you have any questions, email: youth4climate@wandsworth.gov.uk.