Ceremonies in the Grand Chamber
Customer notice
COVID-19: Further to Government announcements on the easing of lockdown restrictions, some services have now resumed on limited basis. Please go to the individual service webpage for further details.
Admission to the office is by appointment only. Customers without an appointment will not be admitted and should not travel to the office. Please contact us via email or telephone.
The impressive Grand Chamber is the largest of our ceremony rooms and is a prestigious setting for a Wandsworth wedding.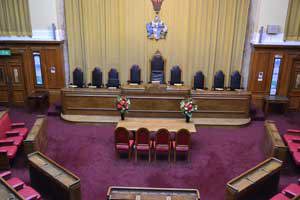 Capacity
100 (Reduced to 15 during COVID)
The room capacity includes all attendees including the couple, witnesses, guests, children, and photographer, and cannot be exceeded.
Fee
Weekdays: £360 plus £11 per certificate
Saturdays: £475 plus £11 per certificate
Sunday/Bank Holidays: £540 plus £11 per certificate
Valid 1 April 2020 to 31 March 2021.
Fee includes
Separate interviews and entrance if requested
Choice of ceremony plus enhancements
Up to three readings
Choice of music (Bluetooth, CD, USB, and MP3).
Live acoustic music can be accommodated
Personal vows
Important information
If giving notice for a ceremony in this room the venue must be recorded as:
 'The Town Hall, Wandsworth High Street, London'
Notices bearing the incorrect description will not be valid and will need to be amended or given again.
Paying
A deposit is required at the time of booking. Full payment must be made no later than 2 months before the ceremony. If bookings are made within 2 months of the ceremony the fee must be paid in full at the time of booking. The Register Office reserves the right to cancel a ceremony if payment has not been received.