Supply Wandsworth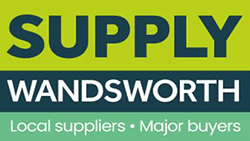 Supply Wandsworth is a strategic localised procurement programme, delivered by our Economic Development Team.
It aims to ensure SMEs, community/voluntary organisations and businesses with a Wandsworth postcode have the information and expertise they need to bid and tender for public and private sector contracts within the borough.
The programme will:
Offer training, learning and support to ensure supplier readiness
Build a supplier directory - a comprehensive list of local suppliers who are fit to tender
Enable information to be shared about new open tenders or contract opportunities within the borough
Develop a buyers' network of multiple stakeholders across private and public sectors
Run networking events
Fit to bid programme
We have commissioned business support organisation Branduin to deliver our supplier readiness training programme.
From September to November 2023, Branduin will deliver information webinars, live events and digital toolkits, all designed to equip SMEs with greater understanding of procurement processes and how to effectively bid for potential upcoming local contracts.
Find out more and book:
Supplier readiness survey
Our short survey is now live and will be open until Saturday 30 September 2023. The survey has been created to help us gain a greater understanding  of the needs, challenges and issues faced by businesses who are hoping to become approved suppliers of public and private tender contracts within the borough.
Local supplier network directory
Our goal is to ensure that local businesses are in the best position to bid for or win public and private sector tender contracts within the borough continues to grow.
As we work towards a formal launch of Supply Wandsworth, we have been working towards developing a network of private and public sector buyers in the borough that are committed to showcasing and sharing new opportunities with local businesses.
To ensure that these opportunities are actively promoted within the borough we would like to create a Supplier directory, which details and informs service, goods, and works buyers/investors where they can access local suppliers and the ranges businesses we have in Wandsworth.
You can now add your business details to the directory.
Buyers breakfast
On Thursday 29 June 2023 we hosted a buyers' round table, bringing together procurement and commercial decision makers in public and private sector organisations across the borough. 
Find out more
To learn more about Supply Wandsworth, upcoming events and further news contact supplywandsworth@wandsworth.gov.uk.