Fishponds Playing Fields - children's trim trail
Fishponds Playing Fields, Fishponds Road SW17
About Fishponds Playing Fields - children's trim trail
The site is a self-contained sports and playing field venue, currently managed by the council's ground maintenance contractor, Idverde which manages pitch bookings.
There are grass fields for summer and winter sports and changing room facilities.
Following a consultation in October 2018, in response to requests from local residents, there is new children's play equipment and open access to enjoy this neighbourhood open space.
The site is only open to the public when sports bookings are made, so there may be games in progress - be aware of balls and please allow the sports to proceed without interruption.
The gates to the playing fields will remain locked at other times in order to protect the sports fields.
There are no toilet facilities on site and please remember to take your litter home with you.
The playing fields are a dog-free zone and dogs are not permitted on the playing fields at any time.
If you have any comment to make about use of the site, please email parks@enablelc.org.
Weekly sports fixtures
View weekly bookings and opening hours for Fishponds Playing Fields (Enable).
Half term closing
The trim trail will be closed during the half term holidays.
Age group
This playground is suitable for children 2 to 11 years old.
Facilities
Equipment includes:
Trim trail equipment

Balance bars

Balance ropes

Slide

Play boat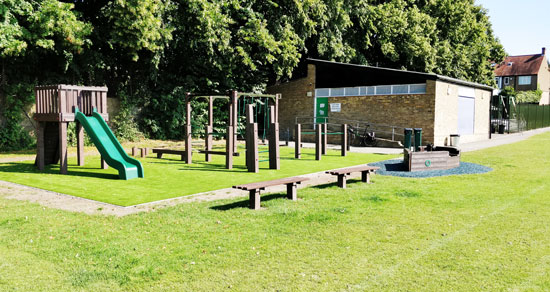 Enable manages children's playgrounds on behalf of Wandsworth Council.
Contact
Phone: 0208 767 1830
Website: https://enablelc.org/parks/about-us/
Address:
Fishponds Playing Fields, Fishponds Road SW17