New climate action partnership will lead borough's journey to net zero
Published: Friday, December 2, 2022
Key partners agree new shared action to meet the climate emergency 
Wandsworth Sustainability Partnership meets for the first time
Wandsworth Council sets ambitious target for the borough to be net zero by 2043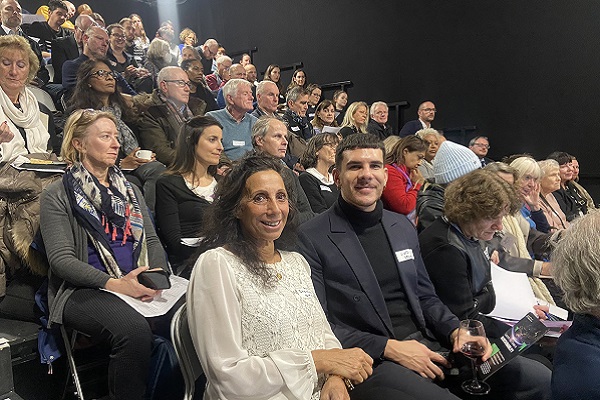 The new Wandsworth Sustainability Partnership has met for the first time to discuss shared approaches to climate action in Wandsworth. 
The partnership launched this week at the Battersea Arts Centre and will meet quarterly. It includes key groups and organisations that together can make a real difference in reducing carbon emissions. 
Attendees included Wandsworth Council leader Simon Hogg and other key councillors and officers, the heads of the Wandsworth Chamber of Commerce, Roehampton University and South Thames College plus members of the Wandsworth Environmental Forum.
Wandsworth has a target of becoming a carbon-neutral council by 2030 and has set a new science-based target of becoming a net-zero borough by 2043. Recently it was named the first-inner London borough to receive a top grade for its climate action from environmental impact non-profit CDP. 
The council is working to reduce its own carbon emissions to meet these tough targets, including making homes, schools and council buildings more energy efficient, but is also keen to work more closely with local people to ensure emissions fall across the borough as a whole.   
It plans extensive communications with residents, especially people who are normally underrepresented in discussions around climate change. This will help people understand what actions they can take as individuals and will include awareness-raising events within communities. There will also be a Citizen's Assembly launching early next year to enable local people to share their views on the borough's air quality. 
"Reaching zero carbon by 2043 will be challenging and it's imperative that we work together as a borough," said cabinet member for the environment Judi Gasser. 
"We need to talk with public sector partners, local businesses, organisations and community groups to share information and best practice, and we need to communicate clearly and effectively with all local residents so that everyone has a voice around climate change policy and action in Wandsworth. 
"We will work hard as a council to continue play a key role in bringing people together and facilitate these vital borough-wide conversations.  Our new sustainability partnership is an excellent start, and I look forward to many more fruitful meetings."