Positive change in Wandsworth to improve local people's lives
Published: Monday, December 12, 2022
Council looks back on recent achievements 
Work underway to make Wandsworth fairer, more compassionate and more sustainable 
Actions to improve the lives of local people already paying dividends including new homes, Cost of Living support and action on climate change and air pollution.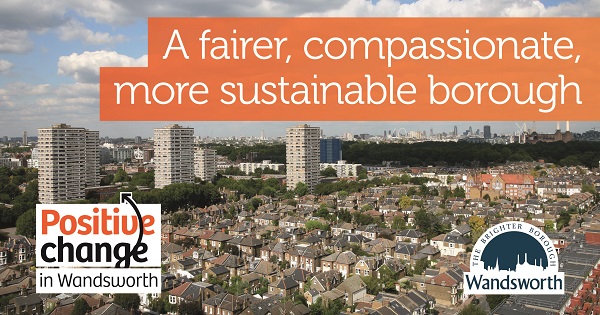 This week the council is looking at how new policies focused on creating a fair, compassionate and listening council have strengthened local communities and improved the lives of local people. 
 And it has renewed its pledge to support vulnerable people, families and residents struggling with the Cost of Living crisis, as well as taking vital action to meet the climate emergency, all for the same local council tax.
In just six months Wandsworth has taken action on key policies including:
Delivering on the priority for 1000 homes for council rent, pausing the selling of council properties, switching existing sites that are under development for council rent and buying more properties to create homes for local people. Life-time tenancies are being introduced and the council is also working to end the scourge of homelessness with a new homelessness team tackling the problem. 
Support for families – The Wandsworth Connected scheme delivered free or low-cost activities and free school meals during the summer holidays. The council has also launched a scheme to support struggling families with uniform costs and a School Food Strategy is being developed, including breakfast clubs. Ofsted inspectors have praised progress in services for children with special needs and disabilities. 
Work towards becoming a Borough of Sanctuary, plus finding homes for 769 Ukrainian refugees. 
Grants for local groups to deliver Cost of Living support in the heart of communities. This is part of a new approach to work much more effectively with the voluntary sector, including a Shaping the Future Vision event in October to discuss shared challenges.  
 A £5m Cost of Living support package, including more crisis support, money for Citizens Advice Wandsworth, winter payments, free COVID tests for frontline workers, a £130 Cost of Living payment for pensioners, warm spaces, a new independent Cost of Living Commission  and an online Cost of Living Hub.  
Future Streets – a major package of cleaner, greener and safer travel options including a new Walking and Cycling Strategy and more School Streets.  Tough action is also being taken against Lime hire bikes obstructing pavements.
 Becoming the first inner London borough to receive a prestigious CDP A grade for its climate action. A new science-based target has been set to become a net-zero borough by 2043. A Citizens Assembly on air quality has been announced, a Sustainability Partnership has been launched, all council vehicles will be zero emission and there are now bike hangers available to local people, as well as more electric vehicle charging points.  
Free mega skips to prevent flytips and help people dispose of bulky waste are now monthly, and the council is working towards expanding food waste collections.  
Action to eradicate health inequalities, including an increased focus on mental health support, and tireless work by occupational therapists to clear the backlog of assessments. 
Making communities safer and tackling domestic abuse and violence, including more staff and closer working with victims.    
Council leader Simon Hogg said: "We are working hard to make Wandsworth fairer, compassionate and more sustainable We've hit the ground running with a whole range of policies including building a thousand new homes for council rent, extensive support for people during the Cost of Living Crisis and significant action on the climate emergency, all for the same low council tax. 
"It's important that we bring local people with us on this journey, and that we all work together to make this the fantastic borough we know it can be.  We promise we will work tirelessly for the residents of Wandsworth."