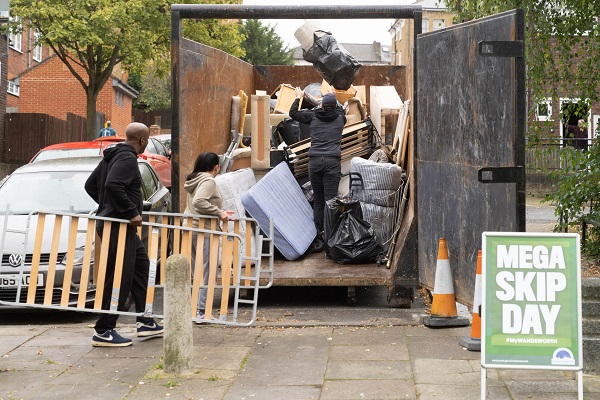 Mega Skip Days will be held each month.  Usually there is a charge for bulky waste collections, but you can take up to six items along to the mega skip nearest to you for free, including some electrical equipment and household items like mattresses and sofas.
Cllr Judi Gasser, cabinet member for the environment, said: "We will hold monthly Mega Skip Days because we know residents find this service useful. It also helps reduce flytipping because there's no excuse to just dump things on the street.
"So come along with your bulky waste, put it in the mega skip and we will recycle it. And if you know an area that you think would benefit from a mega skip, email me at Cllr.J.Gasser@wandsworth.gov.uk."
Mega Skip Day
When: Saturday July 30, 9am-12pm
Where: Skips will be placed at the following locations. As we expect high demand on the day, we will operate on a first come first served basis. When the skips are full we will let you know via twitter, so please check our feed before setting off. 
Church Lane Car Park, Tooting, SW17. Find on a map
Malva Close, Wandsworth, SW18  Find on a map
Acanthus Road, Battersea, SW11  Find on a map
Putney Park Lane, Putney, SW15 Find on a map
Oldridge Road, Balham, SW12  Find on a map
What you can bring
We are limiting the number of items you can bring to no more than six items per household so that everyone has a chance to make use of the skips.
One bag of rubbish counts as one item, as does one sofa, one mattress etc…
Open to residents of the London Borough of Wandsworth only, bring ID e.g. a driving licence, passport or a utility bill.
We can only accept certain items:
YES please to,
Household waste only: the skips are for household waste only – no business waste.
Carpet
Computers and IT equipment
Furniture - e.g. mattresses, sofas, tables etc...
Microwaves and small electrical appliances
Batteries (but no car batteries)
Bicycles
Cardboard
Black bags
NO thank you to,
Hazardous objects or dangerous materials/chemicals: please do not bring anything hazardous in such as sharp objects, needles, dangerous chemicals, plasterboard, flammable liquids and asbestos.
Paint
Concrete
Car batteries
Cement, rubble or hardcore
Plasterboard
Engine oil/cooking oil
Fridges or other large electrical appliances
Other waste services