Rugby club sparks legal action over unauthorised 'dark kitchen'
Published: Monday, July 4, 2022
The council is taking legal action against Roehampton's Rosslyn Park Rugby Club over a series of unauthorised structures that have sprung up at its ground including a so-called 'dark kitchen' providing takeaway foods for numerous food outlets.
The club has installed five shipping containers and two prefabricated buildings at its headquarters in Priory Lane without permission – in breach of planning legislation that classes the ground as Metropolitan Open Land – the urban equivalent of the Green Belt and therefore subject to enhanced legal protections against development.
Four of the shipping containers are being used for storage while the fifth is being used as a 'dark kitchen' preparing food for delivery drivers.
The two prefabricated buildings are being used as a gym and to store gym equipment.
Councillors on Wandsworth's planning applications committee approved enforcement action at their meeting last week.
They were told the club had applied for planning permission for two shipping containers for use as a commercial kitchen last year before withdrawing their application. A container (pictured above) was then installed without consent.
A report to councillors stated: "Container units are typically used as a temporary means to store and transport goods. They are utilitarian in design and lack any visual aesthetic. Those used on this site fail to make any positive contribution to local character. The prefabricated buildings used as a gym (pictured below) and for storage of gym equipment lack any detailed design or positive relationship with the built-form of the site. Taken together, the structures are poorly designed, adhoc additions that cumulatively degrade the appearance of the land and the openness of the site.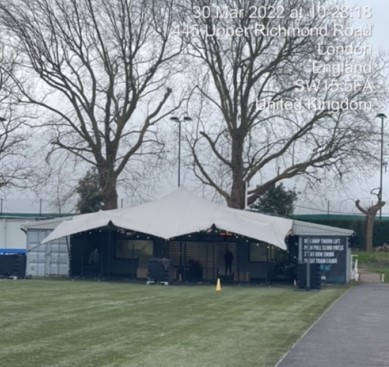 "The container unit used as a 'dark-kitchen' is located south of the main pavilion………The business model of this kitchen is to prepare a high volume of food orders under the branding of different restaurants which are collected to fulfil take-away orders by drivers. The kitchens appear to be open from 10am-10pm.
"Complaints have been received from residents of Woking Close in respect of cooking odours and disturbance from delivery drivers. The nature of and persistence of these effects would not ordinarily be expected of a sports ground and have a negative impact on the living conditions of neighbouring residents."
Councillors were also told that the kitchen and other units had no apparent waste management arrangements, and that the breach of planning legislation in this case was considered to be "severe".
The decision to authorise enforcement action means the club has 28 days to remove all the unauthorised structures or face prosecution.