Battersea children strike a chord with creative orchestra workshops
Published: Friday, August 25, 2023
As Wandsworth campaigns to become London Borough of Culture 2025, pupils at four local primary schools got a taste of classical music when the Royal Philharmonic Orchestra visited to run free music workshops ahead of Battersea Park in Concert.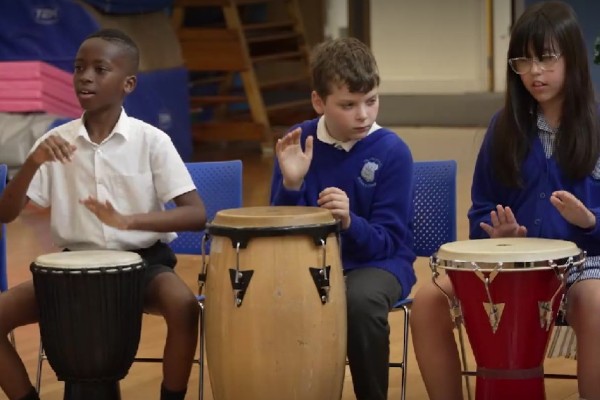 Children from a diverse range of backgrounds were introduced to classical music and playing instruments thanks to Wandsworth Council in partnership with Enable.
The series of creative learning opportunities were based around orchestral, soul, and jazz music ahead of the Royal Philharmonic Orchestra performing at Battersea Park in Concert.
Pupils at St George's Primary School, Sacred Heart Primary School, St Mary's RC Primary School and Falconbrook School explored classical instruments and created their own composition together.
Wandsworth Council's Deputy Leader, Kemi Akinola said: "This is one of many examples of why Wandsworth would make a brilliant London Borough of Culture 2025.
"The work commissioned with the Royal Philharmonic not only highlights Wandsworth's exceptional arts and culture offer, but the strength of the borough in bridging across cultural and socio-economic divides to bring the best experiences to its residents.
"A huge thank you to those involved in this project – it is clear to see how inspired the children were."
The initiative with Wandsworth Music is the latest project showing the council's commitment to ensure access to culture for all and open up new creative opportunities.
Watch the video to see the dynamic approach and motivation of the performers and workshop manager to inspire the next generation.
What do you love about Wandsworth? Tell us in our online survey as part of our London Borough of Culture campaign.
Find out about Battersea Park in Concert and get tickets