BLINK Dance Theatre win permanent home in Wandsworth affordable workspace
Published: Friday, August 11, 2023
A neurodiverse dance and theatre company has become the latest art organisation to make the borough its home, thanks to the opportunity to move into a new affordable base in Battersea with support from Wandsworth Council.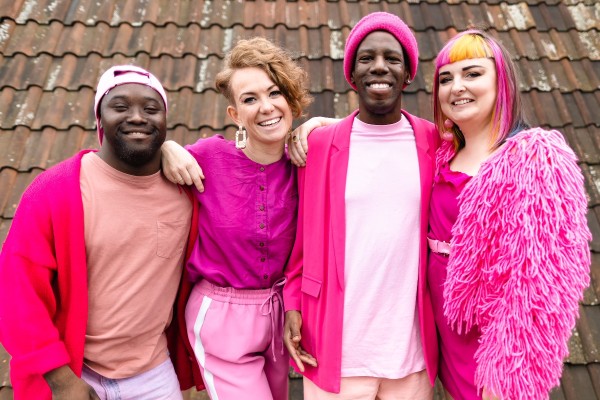 BLINK Dance Theatre were chosen by a panel of local representatives after successfully bidding for 'Space 52' in Peabody's New Mansion Square development off Thessaly Road. They have signed a peppercorn lease that is rent free for ten years.
'Fairer and more inclusive local arts sector'
Panel member Kemi Akinola, Wandsworth Council Deputy Leader, said: "We are pleased to announce that BLINK Dance Theatre are bringing their pioneering approach to Wandsworth and would like to welcome the theatre team to our borough. It was a privilege to be part of the panel making this decision as it signals real change towards a fairer and more inclusive local arts sector."
The grassroots organisation will receive a grant of £125,000 paid over five years and was also given business support funded by the Mayor's Space for Culture programme during the application process.
BLINK will engage with residents and surrounding communities to offer performances for everyone including those with access needs.
Founded in 2013, BLINK is a creative and inclusive organisation with a goal of tackling ableism. BLINK combines humour with advocacy to reimagine a world without barriers. Its shows are adventurous and sensory-based immersive experiences.
Last year, BLINK was awarded National Portfolio Organisation status by Arts Council England for their high-quality, pioneering performances. It is also an associate artist of Battersea Arts Centre and the National Youth Theatre of Great Britain.
A permanent home gives BLINK a stable base to operate from and allows it to widen its outreach and engagement programmes. 
BLINK were chosen after a competitive application process that saw 37 applicants express an interest in occupying Space 52.
Three organisations were asked to submit full proposals, and the final decision was made with the help of panelist Robin Klassnick, OBE, of Matt's Gallery, which had recently relocated to nearby Charles Clowes Walk, SW11.  
Affordable workspaces for local organisations
Also at New Mansion Square are 12 more affordable workspaces available to organisations with local connections, at half the usual market rent.
Each organisation will benefit from dedicated on-site business support and networking opportunities provided by Peabody. With the smallest unit starting from £774 per month, each space includes a kitchen and it opens out onto a landscaped square.
Opening later this year, these 12 business incubator units were secured by Wandsworth Council through planning permissions. The site adds to the number of affordable workspaces being made available through the council's Affordable Workspace Fund and includes free co-working and meeting space to further support start-ups and entrepreneurs.
There is a dedicated Enterprise and Tech Hub which includes a co-working space with desks, meeting rooms and a podcast studio. Organisations will pay £27 per sq ft and £150 a month for a fixed desk, with the option of a monthly contract.
The spaces, due to open later this year, are located near bus routes and transport links including Battersea Park railway station and Battersea Power Station Underground station.
Applicants will need to demonstrate a connection to Wandsworth and work in a creative industry, such as design, fashion, manufacturing or technology. Business owners and entrepreneurs from under represented groups are encouraged to apply.
To enquire about renting a workspace, or to find out more, please contact Peabody on Workspacebattersea@peabody.org.uk by Friday 1 September.
Find out about other affordable workspaces in Wandsworth