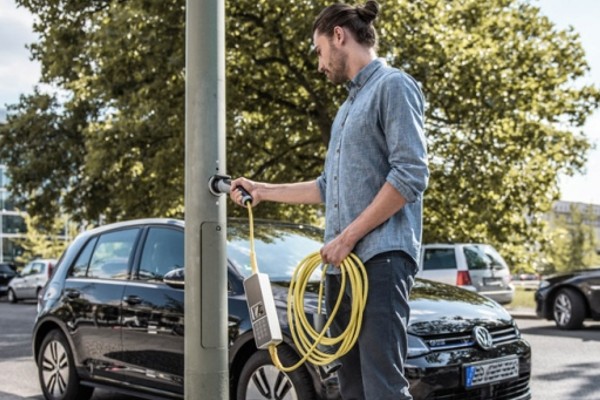 Wandsworth is benefiting from a major expansion in the number of publicly-available electric vehicle charging points with the latest wave of investment delivering more than 500 new lampost chargers.
The borough's tally of charging points is rising to nearly 1,500 – more than virtually everywhere else in the country – as the result of a partnership with charging supplier ubitricity. 
These latest arrangements will see the rollout of 525 new 5kW lamppost chargers across Wandsworth from this summer, part funded by a £300,000 grant from the Department for Transport, via the Office for Zero Emissions Vehicles' Onstreet Residential Chargepoint Scheme (ORCS).
Most of the borough's charging sockets have been fitted to lamposts to reduce pavement clutter and keep footpaths free for pedestrians, with the power supply coming from zero carbon sources of energy.
Wandsworth has embraced electric vehicle technology as one strand of its efforts to tackle climate change and improve local air quality. It is fully committed to supporting efforts to persuade residents and businesses to make the switch from diesel and petrol-powered vehicles to cleaner and greener electric versions.
This route towards emissions free motoring is also being embraced by the council, whose own fleet of cars, vans and lorries is being replaced by electric versions. All will eventually go electric as suitable vehicles become available. 
There are also EV choices available locally for those who don't own a vehicle but may occasionally need to use a car. The Zipcar Flex car club includes a proportion of EVs, offering a convenient and eco-friendly alternative to car ownership, providing electric vehicles to hire by the hour, day or longer periods. Wandsworth has the highest take-up rate of car club membership in the country with around 45,000 registered members.
Jenny Yates, Cabinet Member for Transport said: "We are actively putting in place the key infrastructure needed to help our residents who want to make the switch from petrol and diesel to electric. 
"We will continue to invest in this technology as part of our efforts to improve the borough's air quality and also to help us deliver our ambitious climate change targets." 
Toby Butler, ubitricity's UK Managing Director, said: "The current surge in EV sales is driving increased demand for charging facilities and this can create issues for drivers who don't have access to off-street charging where they live. By expanding their EV charge point network to provide convenient facilities for both residents and businesses using electricity from 100 per cent renewable sources, Wandsworth Council is making the transition to EV easier and helping give drivers the confidence to make the switch." 
To view a map of the borough's charging points visit zap-map.com. For more information about owning an electric vehicle in the borough visit www.wandsworth.gov.uk/driveelectric
To find out more about how the council is working to improve local air quality visit www.wandsworth.gov.uk/airquality 
The council has declared a climate emergency and unveiled ambitious plans to tackle climate change. The aim is to make Wandsworth inner London's greenest borough by becoming carbon neutral by 2030 and carbon zero by 2050. For more information visit www.wandsworth.gov.uk/climatechange