Citizens' Assembly on air quality meets for the first time
Published: Tuesday, February 28, 2023
Independent assembly made up of local people will recommend actions to cut air pollution in the borough 
Residents and groups invited to give 'Lightening Talks' to share their insight and perspective 
Part of council's commitment to clean up the air, reduce health inequalities and make the borough more sustainable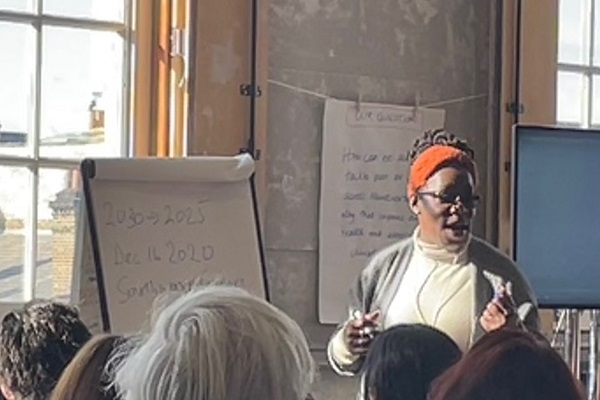 The new Wandsworth Citizens' Assembly on air quality has held its first meeting.   
The assembly is group of randomly selected residents who meet to learn more from experts, discuss what can be done to improve air quality and make recommendations to the council. It is part of the council pledge to review its Air Quality Action Plan and set ambitious new targets to clean up the borough's air.   
The assembly will meet four times by the end of April. The first assembly explored air pollution, the impacts on health, the local picture and personal perspectives.
Members heard from Dr Iarla Kilbane Dawe (co-author and lead researcher for Defra/Local Government Association Guidance on Air Pollution and Air Quality lead for Waterman Group), Shannon Katiyo (Director of Public Health, Wandsworth Council), Maria Vaz & Jason Andrews (Wandsworth Council Air Quality Team) and Rosamund Adoo Kissi-Debrah CBE from the Ella Roberta Foundation.
Local residents and groups who were not chosen to take part can still participate in the conversation. 
Five residents or community groups are invited to join our Citizens' Assembly on Air Quality on Saturday March 11 between 10am and 4pm to give five minute 'Lightning Talks' offering their local insight and perspectives around air quality challenges or solutions. Please get in touch straight away if you are interested.  
And from the end of this month people will be able to put their thoughts and comments online and attend an online webinar. More details on how to take part will be given nearer the time at wandsworth.gov.uk/wandsworth-air-quality-citizens-assembly. 
Cabinet member for the environment Judi Gasser said: "It was a great pleasure to be at the meeting on Saturday. There was so much energy in the room and some really creative, exciting thinking.  
"Holding a Citizens' Assembly and giving local people a real voice is crucial to ensuring we come together as a borough and come up with a robust plan to clean up our air so please take the opportunity to share you thoughts." 
If you have any questions, email togetheronclimatechange@wandsworth.gov.uk.