Councillor repeats call for TfL to 'work flat out' to finish 17-week Northern Line branch closure on time
Published: Monday, January 10, 2022
The council's transport spokesman has repeated his call for managers in charge of running London Underground to ensure there are no delays in completing lengthy engineering works on the Northern Line which get underway later this week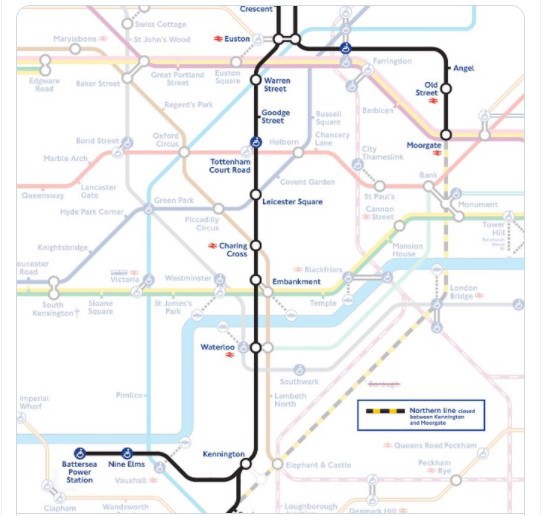 The works will affect passenger journeys for more than four months starting on Saturday (January 15), and involve a 17-week closure of the Bank branch of the Northern Line between Kennington and Moorgate.
The works are scheduled to complete by mid-May – prompting calls from the council's transport spokesman Cllr John Locker for TfL to do everything they can to stick to this timetable and avoid any overruns.
He said: "This will inevitably cause significant disruption for the thousands of Wandsworth residents who rely on the Northern Line every day.
"Not only will they suffer from longer and busier journeys to some destinations, they are likely to also experience worse overcrowding on the remaining service.
"What they will expect is for TfL to work flat out to ensure the project is completed as quickly as possible with no delays and for additional trains to run to keep overcrowding to a minimum.
"And given the impact this will have on so many thousands of passengers it's really important that TfL keep the situation under very close scrutiny and are ready to step in with other travel options if conditions on the remaining northern line services become too overcrowded or congested."
TfL is asking passengers to travel at quieter times or use alternative routes during the closure, as many lines and stations across central London will be busier.
Quieter times on the Tube and Rail services are currently between 8.45am and 4.30pm and after 6.45pm during the week. These times may change. People are encouraged to check how busy their station is before they travel, using the TfL website's Journey Planner or via the TfL Go app.
Full travel advice ahead of the closure is available at www.tfl.gov.uk/northern-line-closure.