Wandsworth praised by Ofsted for its work to improve the lives of local children
Published: Friday, January 13, 2023
Wandsworth Council has received a glowing report from Ofsted for the way it helps and supports children across the borough, receiving its highest rating in more than eight years.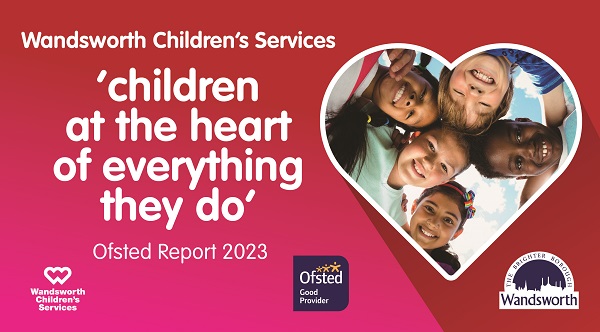 The report, which rated the council as "good" for the services it provides for children and young people concluded that:   
Wandsworth is "committed to improving the lives of children"

 

Children are at centre of the council's ethos and approach

 

The vast majority of children receive the right support at the right time

 
The report, published today (Friday 13th January), follows a visit from Ofsted inspectors in November who said that good progress was being made and children and families were really benefitting from the support and help that they receive. 
Inspectors said that Wandsworth had an "ambitious, dynamic and experienced leadership team" who put "children at the heart of everything they do" across the borough.  
They also pointed to the "healthy culture" within Wandsworth Children's Services of being "child-focused", highlighting that "support, challenge, appreciation and kindness" were seen and heard in every conversation with a range of staff, managers and senior leaders.  
A highlight of the report was the acknowledgement that "the voice of the child is heard, included and taken into account when making key decisions". Inspectors also praised the partnership working between the council, other statutory services as well as community and voluntary sector partners, concluding that these relationships were "strengthening and improving". 
Cabinet Member for Children, Kate Stock said: "This is a huge achievement for all our brilliant staff across Children's Services and means we have received our highest rating from Ofsted inspectors in more than eight years. The drive for continued improvement reflects the commitment and quality of our staff who understand children's needs well and ensure high-quality services are available at the right time, working together with children and their families and always making sure they have a voice. I'm proud that day in, day out children are at the heart of everything we do." 
The Leader of Wandsworth Council, Simon Hogg, added: "I'm incredibly proud that all the hard work and commitment shown by staff has resulted in this rating and I know that the department's ambition will ensure we build on this and keep striving for excellence. Together we will continue to improve services in response to the feedback and recommendations we've been provided by Ofsted."