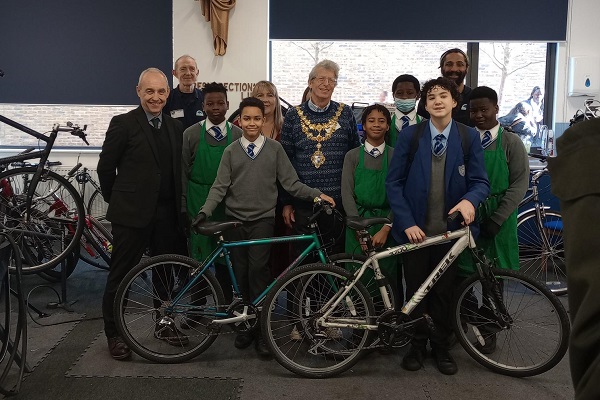 More schools are being encouraged to join a scheme which sees schoolchildren restore abandoned or donated bikes that would otherwise be scrapped. 
Pupils rebuild and repair the bikes alongside trained cycle mechanics and as they complete the course they are able to keep the bike. The pupils then also receive level 2 cycle training to ensure they can use their new bikes safely.  
The scheme is run at St John Bosco College, Southfields Academy and Ernest Bevin College by the council's road safety team, with most bikes donated by the inspection and enforcement team responsible for rounding up abandoned bikes.  
Bicycles that are tagged by the council and remain unclaimed on the public highway for 14 days are removed and stored for a further three months. Previously they would have been scrapped but now they are given to the restoration scheme. 
Assistant Headteacher at St John Bosco College Patrick Sullivan said: "I think it is a perfect intervention – it's practical and students learn skills but also learn how to interact and work together. It gives them a great opportunity to talk and express themselves." 
The parent of one of the children taking part said: "This is the first time I have ever had a call about my son doing something positive." 
Cabinet member for schools Kate Stock said: "This is a fantastic scheme that teaches young people practical and emotional skills. And best of all it means bikes that would have been dumped are given a new lease of life." 
And cabinet member for transport Clare Fraser said: "Our Future Streets campaign is all about giving everybody a chance to access clean, green, accessible transport, so I'm delighted young people have the opportunity to fix up and own their own bike as well as lessening the impact on the environment by saving bikes which would have otherwise been scrapped."
Any schools or youth groups interested in taking part should email dtsroadsafetyofficer@wandsworth.gov.uk. 
Find out more about cycle safety, maintenance and training at www.wandsworth.gov.uk/cycle.