Work Match workshops could offer the key to finding the right job for you
Published: Monday, March 6, 2023
Council service helps local people access training and employment opportunities
Programme designed to give confidence & skills needed to secure job
Six sessions will identify strengths and skills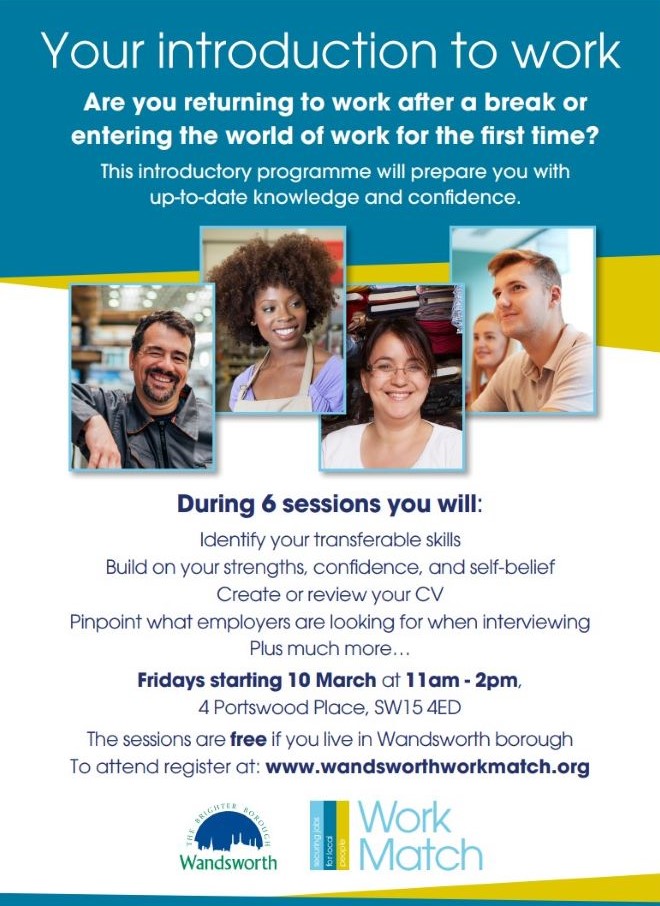 Residents looking to find work for the first time or rejoin the labour market after a long absence can take part in a series of employment workshops that could make all the difference in helping boost their job prospects.
Starting this week, March 10, the council's 'Introduction to Work' programme will give those entering the workplace for the first time, or returning after a long break, the confidence and skills they need to secure a job that's right for them.
The course is made up of six sessions and includes identifying strengths and transferable skills, producing a great CV, interview preparation, confidence building and looking at your financial well-being.
The programme has been organised by Wandsworth Work Match which is a council service that helps local people access training and employment opportunities.
The service was launched by Wandsworth Council in 2013 to help unemployed residents secure new jobs, apprenticeships and training roles, working with businesses across the borough.
Work Match can offer its clients help with applying for jobs, support in preparing CVs and polishing interview skills – giving them the best chance of success. The team also helps local people find pre-job training and support they need to get them ready for the workplace.
The service works closely with Job Centre Plus, community organisations, local colleges and schools to provide an integrated support network.
Cabinet member for the voluntary sector, business engagement and culture Kemi Akinola said: "Work Match is a fantastic success story for this borough. It is able to offer local job seekers a real advantage when it comes to securing their first job or changing to a new role and I would urge anyone in Wandsworth looking for a job or thinking of switching career to get in touch with them."
To register for the "Introduction to Work" course or to find out more, visit www.wandsworthworkmatch.org, email wandsworthworkmatch@wandsworth.gov.uk or call (020) 8871 5191.