US Ambassador unveils plaque marking friendship with Wandsworth communities
Published: Friday, September 8, 2023
The US Ambassador was warmly welcomed by Wandsworth Council's Leader and Mayor as she unveiled a plaque at a Battersea community garden to mark friendship towards the residents of the borough.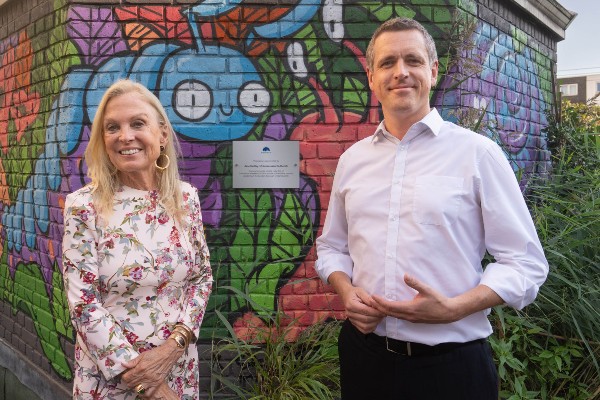 Ambassador Jane Hartley was greeted by residents and volunteers at the Doddington & Rollo Community Garden for the second time this year as she viewed new planting and landscaping following donations from a prize-winning Chelsea Flower Show garden.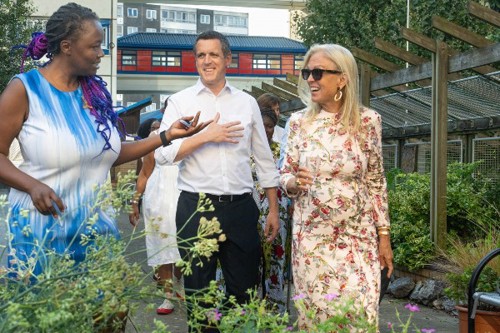 Simon Hogg, Leader of Wandsworth Council, was joined by Mayor of Wandsworth, Councillor Juliana Annan, and Kemi Akinola, Deputy Leader, to welcome Ambassador Hartley and discuss their shared community interests.
Unveiling the plaque marking her previous visit during the Coronation's Big Help Out, Ambassador Hartley said: "I am grateful that we can commemorate the unity, community spirit and friendship that we developed over the Coronation Weekend. This plaque symbolizes our commitment to the Borough of Wandsworth, as well as a friendship that I hope will continue to grow and flourish in the years to come. As Ambassador to the United Kingdom and your friendly 'neighbour,' I am immensely proud to be a part of this community."
'Just the beginning of our collaboration'
Simon Hogg said: "We are delighted to have the Ambassador as our neighbour here in Wandsworth and looking forward to strengthening our friendship over the coming months and years. It's been a brilliant afternoon showcasing the incredible community connections and spirit in our borough and I'm sure this is just the beginning of our collaboration."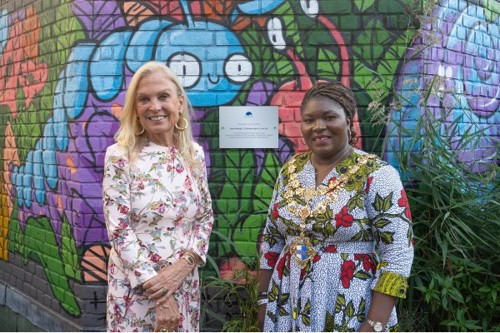 Pam DeVolder, the US Embassy's Cultural Attache to the UK, accompanied Ambassador Hartley during the visit to hear about the diverse and vibrant communities of Wandsworth and the borough's rich culture and heritage.
Guests were shown round the half-acre roof garden by Malissa Ritchie, chair of the Doddington & Rollo community garden committee, and STORM charity founder Marie Hanson MBE who had also welcomed Ambassador Hartley during her previous visit in May 2023.
Wandsworth Council is leading a borough-wide bid to become London Borough of Culture 2025. The council has been listening to hundreds of residents and organisations over the summer as we shape our bid. Being London Borough of Culture would be a catalyst for change, using arts and culture to strengthen our connections and partnerships and provide access for all.
Find out more
Visit the Doddington & Rollo roof garden on 20 September during London Design Festival
Look back at the US Ambassador's visit to the roof garden and STORM charity in June 2023
Read about how the Doddington & Rollo garden inspired a Chelsea Show Garden