AFC Wimbledon Stadium event day restrictions
In anticipation of the impact this development could have on parking and traffic in the surrounding area, we are introducing new parking and traffic restrictions in the roads close to the stadium.
Background
A new 9,300 capacity football stadium for AFC Wimbledon together with some 633 new residential dwellings and commercial space is under construction at Plough Lane, in Merton. Whilst most football matches are being played on Saturdays or weekday evenings, some will be on Sundays or bank/public holidays. There is also the likelihood that the stadium which includes conference and banqueting facilities, will be used for other events which could require similar traffic management arrangements. 
Additionally, there is the potential parking generated by the large number of residential units, all of which could impact on parking availability outside the existing operational hours/days within the above sub-zones.
Event Day only restrictions
Event Day only restrictions operate in CPZs G1, L2 and E1 (part). These effectively extend the CPZ controls to 9.30am to 9.30pm, Monday to Sunday including bank holidays but will operate on event days only.
View the plan of the area where restrictions apply
Please note the following advice which applies on event days only:
Within G1, L2 All-day and E1 (part) the bays continue to be designated 'shared use' which allow both permit holders and short-stay visitors to park
Within G1, L2 All-day and E1 (part), the maximum stay at the pay and display/pay by phone facilities is reduced to one-hour
In the L2 One-hour sub-zone the bays remain 'Permit holders only', and allow only L2 resident/business or resident visitor permit holders to park as there are no facilities in One-hour Zone roads to allow visitors to pay at a machine or by phone
The large Zone Entry signs and the website carry the dates when the Event Day restrictions apply (e.g. mainly football match fixtures)
Fixtures
The Event Day restrictions mainly apply when a football match is taking place at the AFC Wimbledon stadium, known as the 'Cherry Red Records Stadium'. You are advised to consult AFC Wimbledon's website for a list of all fixtures, and be sure to check that the match is taking place at home, not away.
The Digital Football Calendars website allows you to download the fixtures to your calendar. Please check with the AFC Wimbledon site too to ensure it includes all fixtures. We are not responsible for material on third parties sites.
Should the Event Day restrictions need to apply on a day when a football match is not taking place, but there is a major event of another kind at the stadium or in the area for example, this date will be posted here and on the Zone Entry signs as usual.
Signage
40 Event Day (EVD) Restriction signs will be erected prior to each match across 19 different locations within the event zone showing the date. The locations for these signs are:
Magdalen Road/Garratt Lane
Magdalen Road/Fieldview
Waynflete Street/Tranmere Road
Swaby Road/Lidiard Road
Isis Street/Tranmere Road
Swaby Road/Dawnay Road
Littleton Street/Tranmere Road
Freshford Street/Garratt Lane
Garratt Lane/Burntwood Lane
Burntwood Lane/Bridgford Street
Burntwood Lane/Tranmere Road
Burntwood Lane/Swaby Road
Burntwood Lane/Openview
Maskell Road/Rosemary Road
St. Martin's Way/Garratt Lane
Garratt Lane/Summerstown
Wimbledon Road/Hazelhurst Road
Wimbledon Road/Blackshaw Road
Wimbledon Road/Burfield Close
Wimbledon Road/Garratt Lane
Broadwater Road/Rogers Road
Garratt Lane/Fountain Road
Fountain Road/Blackshaw Road.
The EVD zone entry sign is mounted under the existing regulatory zone entry sign and the stickers will be placed on the additional EVD zone entry sign at the bottom of that sign (under 'next event day').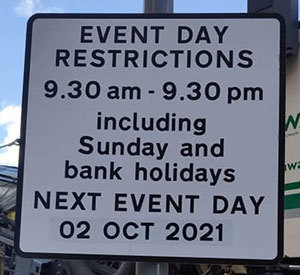 Review
Read more information regarding the review process for these new restrictions.
Contact
For any enquiries, please email wimbledonstadiumreview@wandsworth.gov.uk.