Rent a cycle storage space
Bikehangars are designed to provide a secure on-street cycle parking solution and can only be accessed by a member using a key. They enable more cycling by providing a solution to those who would otherwise be unable to securely store a bicycle.
A Bikehangar securely holds six cycles and fits within a standard two metre parking bay by bolting onto the curb taking up the space of half a car.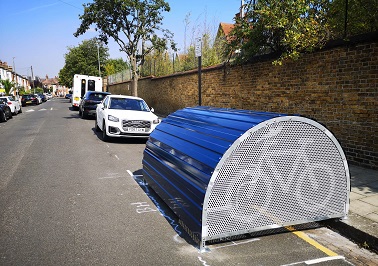 Availability and cost
Bikehangars are priced at £72 per year and managed by CycleHoop. Bikehangars will be prioritised to residents who:
Live on the street (or adjacent one) where the Bikehangar is provided
Do not have a garage or suitable outside space to store a bike
Demonstrate high levels of local support
Wandsworth's Bikehangar network
21 Bikehangars were installed in 2020 following public consultation between 3 March 2020 and 31 March 2020. View their locations. Sites were selected based on locations deemed suitable and the number of resident requests received.
To apply for a space in one of the borough's Bikehangars, visit Cyclehoop.
Next phase of Bikehangar installations
We are now consulting the public on a further phase of Bikehangar installations. The consultation started on 17 September 2021 and will remain open until 15 October 2021.
Visit the consultation page to make comments and to view the full list of proposed locations.
Sites have been selected based on locations deemed suitable and the number of resident requests received.
Request a Bikehangar on your street
We welcome further requests from residents to help plan future installations. We are currently seeking further funding for more Bikehangars due to the level of demand. Let us know if you would like a Bikehangar installed on your street via the link below.
Registering your interest for a Bikehangar on your street does not count as an application for a space in that Bikehangar. The application process will go live to residents once locations have been installed. Places will be allocated on a first come first served basis.
Locations must be on Wandsworth highways only. For installation enquiries on housing estates or residential blocks please contact your landlord.
Demonstrate support for a Bikehangar and ask your neighbours to submit their interest too.
Wandsworth's Bikehangar Strategy
Wandsworth's Bikehangar strategy (paper 19-270) was approved on 24 September 2019 by the Strategic Planning and Transportation Overview and Scrutiny Committee.