Subscribe for ebilling
When you link your Council Tax account to your My Account profile you can choose to subscribe for ebilling. You can subscribe any time after you have linked your Council Tax account.
When you subscribe for ebilling, you will:
Receive email notifications when you are billed
Help the Council reduce the amount of paper we use, reducing costs and protecting the environment
How to set up ebilling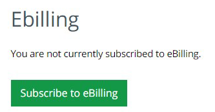 To subscribe for ebilling after you have linked your Council Tax:
Select the 'Bills' tab on your Council Tax account
Select the green subscribe button
Complete the form
What your ebill looks like
Click to enlarge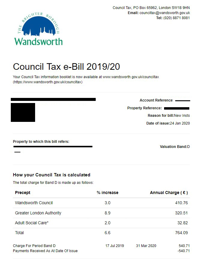 How to download your ebill
You can print or save a copy of your ebill.
When viewing a bill, select the 'Print this page' button and save as PDF.
Manage ebilling
You can manage ebilling online to:
Change your email address
Subscribe to ebilling for another Council Tax account